digital banking
Building the Digital Financial Infrastructure for Latin America with Ualá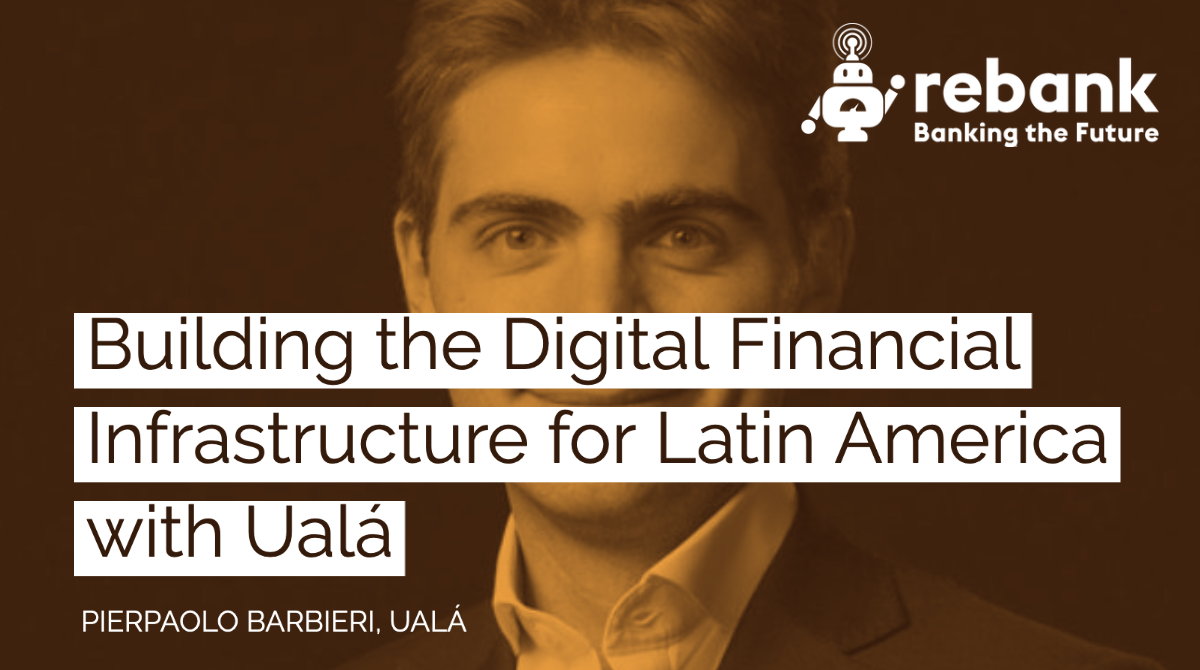 ---
Pierpaolo Barbieri is the Founder & CEO of Ualá, an Argentinian consumer fintech taking South America by storm.
Founded just three years ago, Ualá has already amassed more than two million customers in its native Argentina and recently expnanded to nearby Mexico.
Unlike consumer banking offerings in many developed markets, which compete with incumbent banks, Ualá's main competitor is cash in markets in which as many as half of adults are unbanked.
Ualá has raised just under $200 million since launch, from leading investors including Soros, Point72, Goldman Sachs, Tencent and SoftBank.
As if building the modern financial infrastructure for Latin America weren't enough, Pierpaolo is a Harvard and Cambridge educated Historian and Economist, published author, macroeconomic advisor and regular contributor to publications including Foreign Affairs, The New York Times, The Financial Times, The Wall Street Journal and more.
Full transcript:
Will Beeson:
Pierpaolo Barbieri, welcome to Rebank.
Pierpaolo Barbieri:
Thank you very much for having me.
Will Beeson:
It is an honor to connect with you. I've followed your work for a couple of years now, I guess once you guys truly hit the FinTech scene. I have to admit, I don't follow history, geopolitics and economic thought leadership as well as maybe I should, so I missed your earlier work. But more recently, Founder and CEO of Ualá. Do you want to introduce yourself real quick?
Pierpaolo Barbieri:
Yeah, so I'm Pierpaolo. I'm one of 500 now at Ualá. We started the company in 2016. We launched the product in the market three years ago this week, and we've been operating in Argentina and now we just launched in Mexico nine days ago to celebrate our third anniversary.
Will Beeson:
So congratulations, that's amazing. Just a tremendous amount of progress in three short years and not only, I guess, scaling quickly, but I think last numbers I read were something like two million users in Argentina. As you mentioned, you just launched in Mexico, you raised I think a Series C, was it late last year, was it early this year, from Tencent and SoftBank I think, and you raised money from Goldman Sachs before. I mean talk about a phenomenal three years, every founder's dream.
Pierpaolo Barbieri:
Yeah, it's been an amazing ride. And to bring capital into Latin America at a time when most people look at these models elsewhere further convinces us that we are betting on the right space in the right region. I always say it's a lot harder to convince people in say Europe to ditch their pretty good bank for an online only better bank. But we're asking people to ditch cash. And so we become the enablers of the digital economy in such a way that we think has great potential for the whole Latin American region.
Will Beeson:
Yep. So I want to dig in there and maybe you can help fill in gaps for me and also just explain the opportunity to the audience. So as you mentioned in, I guess Europe, maybe initially and now potentially US as well, Asia.. The whole "traditional banks don't work very well, we think we can do this better in an app," just like, I don't know, iTunes was better than Tower Records. And I guess it hasn't really gotten the level of traction that people would have expected, the kind of Monzos and N26s of the world. Certainly amassing great customer bases but question mark around the economics, question mark around real value prop for the mass market versus in Latin America, two amazing growth stories that we've seen, Nubank, and we connected with David a while back now, and Ualá, I think you guys are solving a fundamentally different problem. Can you just describe that real quick?
Pierpaolo Barbieri:
Yeah, I think you're right. We always thought about this, and when we were trying to design the product, we looked at very different markets. So I have great admiration and a lot of respect for what Monzo, N26 and Revolut do in Europe. But at the core, the proposition is to turn a universally banked society away from brick and mortar into digital. And yet, the banks are slow but they're not dumb. And so they have increasingly better proposals themselves. The key, in a region like Latin America, is that you have middle income countries such as Brazil, such as Columbia, such as Mexico, and also Argentina, where people make a relatively large amount of money and yet, over 50% of the whole society, 50% of adults in these societies, have never had a bank account. So your real competitor isn't Santander or HSBC, it's cash.
Pierpaolo Barbieri:
And so in the markets where we're operating, we're basically telling people, "You can choose another bank and have the brick and mortar experience, but most crucially you need to have a payment mechanism for the modern world in order to get Netflix and Spotify and Apple Music and YouTube and Facebook ads and whatever it might be. You cannot do that in cash. And so in a country like Mexico, where 90% of transactions are still in cash, Argentina is at 80% of transactions are still in cash, the value proposition of that is great. And so what we have thought is, fix payments first. And that's what we did in our first two years. Then focus on the other two pillars of finance, which have been, I'm a historian by training, you mentioned it in the beginning, the other two things are credit and savings.
Pierpaolo Barbieri:
So what do you do when you have more money than you need, and what do you do when you have less money than you need? And then you have the real value proposition. But in order for you to really start building that, you need to fix the payments vertical. And so we started on the payments vertical, that's what we did in Argentina in 2017, that's what we're doing in Mexico today. But three years forward in Argentina, we have 8% of the country on Ualá and over 18% of the 18-to-25 year olds on Ualá. And that's only after three years of growth. So we have a scalability at a price that is unmatchable by the traditional institutions.
Will Beeson:
And I think, at least my simplistic description for myself, of what Ualá is, at least as you said, maybe the first two years or what you've been in Argentina to date, it's basically a spending account. It's like previously people used cash, they put the cash in their wallet and they went out and bought whatever they needed. But now, as you say, a lot of those purchases require a card because they're online payments. So you get the card, you load your cash on it, right? Are most people getting paid into the Ualá account? Are they getting paid separately and then loading their Ualá account? And then, and you can come onto this, not only is it then the online spending, but because you're building digital experiences into this app that they're already using for day-to-day payments, you can start to do really interesting stuff around partnerships, around discounts, around promotions, around just the sort of frictionless experiences that people have come to associate with technology that just don't exist with cash payments.
Pierpaolo Barbieri:
That's exactly right. And moreover, if I can add one thing to your excellent summary, is that cash limits you to your immediate surroundings. I cannot call Reed Hastings and give him a check or a $5 bill to get Netflix. And so the biggest digital enabler is the need for people to do transactions outside their immediate proximity. And so when you were able to convince somebody to digitize their cash, you say, "Look, we're going to do away with a barrier." They used to charge you for topping up the card. We don't, we subsidize that. But over time, more and more of the money is coming in digitally. People are getting paid into the Ualá or people are getting it from the bank, which has a horrible online experience, and they're just transacting more and more on the card.
Pierpaolo Barbieri:
Because you also then offer the possibility of not just fixing the payments vertical, but also building a credit history, and building a savings product, so that you can not just tell people, "I'm here to intermediate your payments and enabled visual economy, but also I'm here for you to have your first credit experience at a reasonable price, for you to have a savings account." And so that's why we have to start with the payments. And I'll tell you one funny story, there were 30,000 issued cards at Ualá. It was February of 2018. Netflix told us, and then Spotify a month later, "Just use our brand for free in all of your online advertising." And we were like, "Wait, what? Why would you give it to us? We're like literally 22 guys in a room in a co-sharing space. Are you sure?" And they were like, "Yeah, otherwise we can't get to those users. You give us net new users. Whereas the banks pay us millions of dollars for making a money heist ad. But they're just giving us people that are switchers," whereas...
Will Beeson:
Right, because anyone coming from a bank already has a card. And so maybe they're already Spotify customers, maybe they're already Netflix customers. But by definition, every new Ualá signup is new to the digital economy.
Pierpaolo Barbieri:
Correct. Well, in the beginning, when we just were a free account and a MasterCard Global, who signs up for that? Well, people who are young and they want a digital challenger, because they don't want to go into a traditional branch, and people who are unbanked. But my mother didn't want it, my mother was like, "Why do I need this? I have a great product at Santander." And I was like, "You know what, you're right. Why would you want it? You have a better product." But so the ability to have those people and the transactionality that come with them gives you the base and gives you the traction to build a full stack for everybody else. And so now I have people like my mother's friends who are telling me, "Wait, but you have a better savings tool than my traditional bank. And then you have a better installment plan than my traditional bank. And you can do the spending analysis, which my traditional bank never built. And you can do easier transfers because you built it for the technological world, as opposed to building it for the digital version of an in-person transaction."
Pierpaolo Barbieri:
And so those things have allowed us to build a full stack. And so what did we do first? We did the card and then we did mobile top-ups, which were essential and also hugely profitable. We did bill payment, we have more than 4,000 different services that you can pay for free, really game changer in the pandemic. We did transport cards so that your Metrocard or your Oyster card or your Octopus card is embedded in Ualá, and so you can top it up on Ualá directly. And that gives you a full picture of who Will is as a payer. I know you pay Netflix every month, I know you have Spotify. I know you pay X in your water bill, and you always do it on time and therefore my credit team can say, actually, this guy, he probably has a good salary and therefore we should give him a line of credit.
Pierpaolo Barbieri:
And so we, we built from that universality of "let's give everyone a free account on a MasterCard and then build a stack from there," which is the opposite of what David and team have built in Brazil, which is an incredible product, but it's based on a society that is far more banked than the ones that we operate in because Brazil has had financial inclusion policy since the 1970s. So unlike in Argentina, where 50% of people never had a card, in Brazil over 70% of people have had a card. So you have credit histories more readily available.
Will Beeson:
Can you talk about how you came to this? Actually best question perhaps to get to the heart of this: is there a thread that you see running through your life to this point? You've done a whole range of very interesting things. How did you get to founding a, for lack of a better word, digital bank?
Pierpaolo Barbieri:
Yeah, I mean, I studied in the US and then I worked in the US for many years, and I really wanted to do something back in Argentina, which is my home country, and something that was impact oriented. And I was in macroeconomics and finance and we'd raised a fund to invest in Argentina. And as part of that, we became shareholders of some of the largest banks in Argentina. And so we saw them from within and I personally saw how these institutions weren't really intermediating credit, taking money from Pierre to lend to Will. But rather they were just finding ways to charge Will a fee for things that they didn't charge a fee for in other markets. So like, why is it that a Santander account is free in Spain, but in Argentina you pay an opening fee and a maintenance fee and a renewal fee and a statement fee and another fee and whatever, why? Because they have no competition.
Pierpaolo Barbieri:
And the States never really bothered building universal banking. And so without universal banking, we have a debt as a society, which is that some people have access to a credit history and some people don't. So the only worse thing that having a bad FICO score is having no FICO score. And so when you have that, you can't really participate in society because you'll never be able to get a mortgage or a car loan or whatever. And so you'll never be able to really progress in life. And that's what I really wanted to fix. And I thought that the best way to start was with a debit experience. I can't give you credit when I don't know you, so I'm just going to start with digitizing payments and being the enabler of a digital economy.
Pierpaolo Barbieri:
After all, Argentina is not off the map, and if 50% of transactions almost in Europe are now digital, 40% in the US, 65% in China. 20% are in Latin America, well, I know which way that's going. And so cash can't beat me in that battle. And I think obviously the banks are formidable. Some of them have created great challengers. MercadoLibre is our biggest competitor and the most amazing company in the region. We greatly admire it, but I think that competition just opens up the economy and opens up the sector in a great way. And so we're very honored to be a part of that transformation.
Will Beeson:
Mm-hmm (affirmative). So one of the things that I was super curious to ask you about is just, I guess, given your background, and then the perspective now that you bring to this... It's one thing, as we were saying before, in Europe to build a faster-to-load banking app and a shiny card as opposed to dull card. But the banking system works, the monetary system works, there's complete government stability, notwithstanding weird people that continue to get elected in the Western hemisphere. But you talked about impact, right? You talked about impact and what you're trying to do at Ualá. And on one hand, I imagine its impact around financial inclusion. But on the other hand, I mean, you're potentially, as you build this infrastructure that supports digitization across an economy in ways that potentially favor all people, as opposed to just the incumbent wealthy. Potentially you're helping build some, some important infrastructure to support long-term economic success in Argentina and potentially other countries in Latin America. Do you see it that way?
Pierpaolo Barbieri:
100%. And we're very proud of that, and we're very proud of the support that central banks are giving to these FinTech challengers in Latin America. And we've seen it in COVID, how the government of Mexico, the government of Columbia, the government of Peru, the government of Uruguay, they're moving toward seeing wallets like Ualá, and I'm not just saying one, like just the whole ecosystem, as harbingers of positive change, because we are giving people that universal account that the banks fail to do. And so I always say, if at the end of this whole thing, we fail, and Ualá's a zero and we have to find other jobs, but we just achieve that the big guys started doing universal banking the way that they should have been doing it since the '50s, great. Because our societies will have better access, better credit histories, more penetration for credit, better savings, but as it is, 50% of society's out.
Pierpaolo Barbieri:
So we ask these people to believe in democracy and capitalism, and then we don't give them an account. That's fundamentally wrong. And so we want to fix that gap. And the only way to do it is to challenge the incumbents and to create a system that is open. And so I am very happy to see developments like Mexico copying elements of the European open banking regulation, Brazil coming up with Pix that is heavily inspired in India's demonetization program. We see the region saying, "Hey, no matter if you're on the right, no matter if you're on the left, no matter if you're in the center, financial inclusion is a good thing." And technology radically decreases the cost of providing everyone an account. And that way, the government doesn't control it, you can choose how you do it. You protect people's savings, you help them build a credit history, and everyone's better off.
Will Beeson:
If we switch gears a little bit and just kind of I guess, take a step back and think a bit more broadly, there are two things it seems to me that are really kind of racing ahead, during what's otherwise a global pandemic. Technology and financial markets. And I guess also kind of continued massive flows of private financial capital too, right? The VC space, private equity space. As you think forward, specifically I guess, about your own home market, but then also to the extent you have thoughts more broadly, I mean, do you, as an economist and historian, do you feel good about the speed at which technology is accelerating, the speed at which financial markets are racing ahead or do you think that there are risks to equality and stability as a result of factors like that?
Pierpaolo Barbieri:
I think that, like it happened in 2008, the monetary reaction to the pandemic will do what it needs to do to preserve capital markets. But the cost of that will be that the rich get richer and the poor get poorer. The distance widens. I am very happy to see that there's technology companies that are continuing to improve products. And from our consumer perspective, I love what's happening to Square and to Google and to Amazon and Apple and the speed of innovation that really permeates faster in society. I think online payments are more equal, they're less discriminatory, they are more open and they are better for credit histories. That's great. And yet what we have to do, what our governments have to do, and I don't think there was an alternative to keep the economy moving, hurts disproportionately those who are less well off. Who's more likely to get laid off? The ones that are not in jobs that are easy to do remotely.
Pierpaolo Barbieri:
And who's benefiting? The people that have 401ks that are filled with technology stocks. And so that widens the gap. And I think there's something that we need to do as a society, not to fall, because I think that when the economy historically gets too wide, then growth hurts, social mobility, and the health of our democracies hurt. And so I don't think there was really anything that the Fed could have done differently. But for instance, I wish the politicians were heeding the Fed's call for more fiscal support, not to help Wall Street guys, but to help the main street guys. And so yeah, I worry about that and obviously, in emerging markets, it's a lot worse. We've got to think about the global consequences of this, and it's no accident that it's the poorest countries that are going to have the biggest hit to GDP. I think that there's a lot we can do about it, but we need to have that in mind.
Will Beeson:
Because you would know this much better than me, but it seems pretty, pretty easy to link 2008 to the populist wave through 2016. And now we're potentially, as we come out of COVID, looking at, as you said, an increased inflation of asset prices and rich get richer and poor people struggling potentially more and more. I guess one, are you concerned? And two, are there things that people should be doing, whether it's governments or businesses, to inject some stability longer-term?
Pierpaolo Barbieri:
Look, I think that we certainly need people to pay their fair share of taxes. I think that we need to have government involved in retraining of people who lose their livelihoods and of support. I think that nobody argues that what the government in the United States did in March and April was a good thing. And the United States had the fiscal capacity to do it. Then why did we let it expire in July? The thing isn't fixed, the vaccine's not here, and people are getting laid off anyway. And so I think it's incumbent upon us to understand that, just because the stock market's doing well, doesn't mean that the economy is doing well, and a lot of people are suffering. And if you compare again '08 to now, the asset price inflation has only been faster and bigger, and it's only going to get bigger because we're going to do more.
Pierpaolo Barbieri:
And so I think we need to think about those who are less well off. I think we made some progress, frankly, regardless of what you think of the President, the United States had better Main Street income growth in the lower quintiles in 2015 to 2018 or '19. But then we erased it all this year. And as we look forward, it's not the people at Square who are losing their jobs, right? It's not the people at Amazon who are losing their jobs. It's the people on Main Street who are more likely to suffer the consequences of the pandemic negatively, whereas you and I get to work from home. So I see that, wow, we went full remote, we've hired 40% of our workforce in the pandemic because we had to keep growing. And yet the economy outside feels a lot worse and the recession has gone and gone bigger or deeper in Argentina. And in that sense, it's a very worrying situation. And I think that governments need to lean against that while preserving obviously private investment and then public investments should boost that.
Will Beeson:
All right. So if we pivot back to Ualá, we talked before about your phenomenal growth. How did you achieve that? I mean, was it literally product V1 was great and people came to it in droves? Or was there some managerial magic to make this happen?
Pierpaolo Barbieri:
I mean, first of all, we just guess, right, because we don't know what those couple first thousand people did or thought. The truth is that I'm very fortunate to be able to tell you that three years into Ualá, with 8% of the country on Ualá, almost 40% of everybody who signs up today will be organic. And so from the beginning, Marcel, our head of product, and I always had the same conversation. We wanted to build only five things and make them better than the alternative. As we realized we didn't have money for everything, we just wanted to do five things. And those five things were: live transactionality, in a market where everything was batch, a free debit card that was really... no small print, free, free is free. A spending analysis that nobody had created. And so you were able to analyze your spending on Ualá in a way that didn't exist anywhere else.
Pierpaolo Barbieri:
Free cash in. Physical cashing costs us money and yet we say it's free because we need to do away with a barrier to digitization so that people trust. Bank cash in is also free because it has to be free, right? And the fifth thing was something that we never did, was deposit a check. And we were like, "Why do we need that? We don't need that." And so we wanted to do that better and we wanted to start with that and that's what we started doing. And so we changed that fifth one for free P2P. And so in that sense, we were inspired by Venmo. But in a market where people used to... MercadoLibre used to charge you 3.5% if you'd send money to a friend, because they consider that a merchant acquisition, a sale.
Pierpaolo Barbieri:
And so we said, "Look, if you're sending money to your mother or your aunt or your girlfriend or your friend, it's not a sale, it's just P2P." And so we wanted to do those things better. And then from the basis of that, build the whole stack that I was telling you about earlier. And I think that we built an honest product that was good in terms of development because we didn't outsource it, we built it our own. And we took the time to do it right. And we made some, I mean I can't claim credit for this, the team made some really good decisions like betting on AWS infrastructure really early on for financial services, which was not really done in 2016. Betting on building an architecture that was open, building our own core transactionality capabilities. And so we basically partnered with a processor that was able to give us live, but then we had our own transactionality in such a scalable way that allowed us to keep growing very quickly and very cheaply.
Pierpaolo Barbieri:
And then have the right investors to come with us along the journey, because then we never faced the moment when we were like, "Oh shit, we've got to be profitable day one or else." And so I remember our first presentation said that Ualá was going to take seven years to become profitable. And so we're in year four.
Will Beeson:
And I think I read somewhere in prepping for this conversation where you guided towards something like five to seven years to profitability. And I think that sounds pretty standard based on everything that we've seen globally with "neobanks." What are the drivers of your business model from a monetization, and in the future, profitability standpoint. Is it interchange or are there other components... You expect that value added services that you build around the core payment functionalities are going to really support that longer term?
Pierpaolo Barbieri:
I think that over the long-term, you have to understand that the interchange should tend to zero. In the short run, you can build a great business on interchange in Latin America because it's 10X what it is in Europe. So it's a lot more like the US where Chime has done a great job on interchange than it is like Monzo, where basically Europe has regulated interchange to be basically one-eighth of the US, so it's like one-eighth of Latin America as well. And so I think that currently you have the cards that still have expensive interchange in Latin America, and you have QR that is just incipient. Eventually we're going to get to a place where it's going to be a lot closer to Europe than it is to the US. And that's good because there'll be a much bigger pie. But right now, interchange is big, but it's not our future, it's our present. And you have to think about it that way, even though... you can build a great business on interchange today and many have.
Pierpaolo Barbieri:
Credit is a part of that business where we currently originate credit and keep it on balance sheet because we're building a credit history, but we anticipate that very soon, we'll be able to sell it off to the market like WeBank does in Asia, and we've learned a lot from that experience. Then on the payment side, it's profitable for the telcos to top up via Ualá. And it's a lot more profitable for the bill payment services to be performed by Ualá rather than a place where you queue up on the street and you pay. So it's better for the water provider and it's better for Ualá. So we get a small fee from the telco, from the water supplier, from the transport company and all those things then help us build a credit history that we use for you to originate credit.
Pierpaolo Barbieri:
And for other financial services... in the last nine months, we have built the second most popular savings account in the country. Nine months, over 700,000 accounts, second only to MercadoLibre, which has been around for two and a half years and has small business accounts. And so as we look forward, the ability to give you not just a payment provider, but all the value added of savings and investments directly on Ualá gives us the ability to say, "Look, manage all your money from here. I'm not going to do scooters, and I'm not going to do food delivery, and I'm not going to sell you a Peloton on Ualá, but I'm going to give you the ability to have credit savings and other financial services and for this to be the center of your financial life." And so that starts with, with commissions on payments and origination of credit, but also in other financial services that people will be able to sell via Ualá.
Pierpaolo Barbieri:
In the case of, one more comment on the savings account, we're doing this in partnership with one of the top three asset managers in the country, and they have more accounts from Ualá in nine months than they did in their whole asset management business in 30 years. And so yeah, the accounts have a lot lower AUM today, but the path to digitalization is clear and we are the channel for that transaction. We don't take principal risk, they do. And so we are just a channel for financial services to be more democratic, more open and more inclusive.
Will Beeson:
Yeah. What makes your savings account so much better than all the others?
Pierpaolo Barbieri:
Argentina is a country with high inflation. And so a money market account yields whatever the central bank says. So if inflation is 40%, say the money... It's hard for Americans or Europeans to understand, but this is basically like the 1970s infrastructure. And so inflation's high, inflation say 30% a year. So the central bank gives you 40% a year. And so if you have money sitting on your checking account, it just devalues every day. If you move it to your savings account, you get a daily return. And we have built an experience that shows you that daily return in a way that none of the other players had done. And why hadn't they done it? Because they charge you a 4% management fee for a money market account. And they say, "Well, Will's not going to see it, right, because inflation is high, the rate is high, so he's just not going to notice I'm charging him 4% management fee." Which is basically 15 times what eTrade charges you for a money market account, right?
Pierpaolo Barbieri:
So we said, "You know what, we're just going to be radically transparent. We're going to offer you a product that is one-third of that fee. And we're just going to tell you upfront what it is, and we're never going to change it. And so the performance on Ualá, it's better than your bank because I charge you less. But I can't tell you what I'm charging you. I'm just going to show you what we charge you and tell you, Will why don't you check what Santander does? Why don't you check what MercadoLibre charges you?" And people do. Because at the end of the day, they see that Ualá, they leave 100 pesos on Ualá and the day after they have one more peso then they did the day before, whereas in the bank, they had a lot less than that because they charge a much higher fee. And so people, then that grows organically. And so going back to where your previous question, you just have to build a better product, and transparency is a way to remind people that you are a product company and you're not in the hiding business.
Will Beeson:
All right. So I think we should probably wrap up soon to accommodate schedules, but before we go, last question for you. I imagine that you're probably something of a perfectionist, you strike me as a high achiever over time. It's pretty easy to figure out looking at your LinkedIn profile or your resume. How do you feel about what you've done so far with Ualá and how do you think about the future?
Pierpaolo Barbieri:
That's a fantastic question. Look, I feel that we've done an amazing job at starting. And I think that, I said it on our three-year anniversary which was Friday night with the whole team, I feel that we're at the end of the beginning, and so we've proven three things. Number one, that we could do it in Argentina, operating in a country that has been in recession over 25 of the 34 months that we've been in operation. And yet we've built an amazing base and we have more issued cards than MercadoLibre, believe it or not, a $52 billion company. Number two is that we proved that we could widen the stack, start from the card, build a savings, build a credit and build the installments, build bill payment and all these things that you needed to have. So we've had enough traction to give us the ability to do that stack. And now we are widening into other financial services that eventually will make us break even.
Pierpaolo Barbieri:
But most importantly, three, that we've been able to prove that we can do international. And so 10 days ago, we launched in Mexico. We have been incredibly surprised by the traction that we've gotten. And we've launched in Mexico with a product that took us 20 months to build in Argentina. So free account day one, free MasterCard day one, free bill payment day one, free top-ups day one, full interoperability with the banking system day one, and mobile top-ups day one. And so that tells us that I think that we have done something right in building the product in such a modular way that we can take it to other geographies, that have the same problem as Argentina, which is lack of financial inclusion, and that speeds up our development.
Pierpaolo Barbieri:
And so I think that what we've proven is that it works in this market, that we can take it somewhere else that has similar set of problems, but finance is very local. So we need to take time to localize the product and understand the local culture on how to serve it to Mexicans. But we've been very surprised by the traction and you're right, I'm a perfectionist, but I've learned along the way that you don't launch the perfect product, you launch an MVP and you improve on it. And when you're a product company, I'll cite Carl Von Clausewitz, "No plan resists contact with the enemy," and no real product resists contact with users. So you need that contact with users to test your assumptions and realize that actually you are wrong on many things, and we've done this in and out again, and people love it.
Pierpaolo Barbieri:
Because other traditional banks spend three years building this product, and then they release into the market and it's two years too late. And so you have to really trust your user base and listen to them to build what they want to have. And that helps you create trust, which in a financial product, and I think, you've talked about this in other podcasts, the importance of trust in this business is essential. And so when you're a challenger, you have to build that kind of relationship with the user base, because they've grown up hearing HSBC's name and they don't know who you are. And so at the end of the beginning, we see huge opportunity for growth. Now we're available for 165 million people, and we only have two and a half million users. So sky's the limit, and I can't hire fast enough to do all the things that we want to do.
Will Beeson:
Wow. Exciting, exciting. Congratulations on all your early success and we'll be rooting you on for sure as you guys continue to scale.
Pierpaolo Barbieri:
Yeah. I think one last thing, I think, you mentioned that interview where I said, in five to seven years to get to profitability, I think we were going to have to test that. I know obviously the first markets are always the ones that are going to achieve it first. But you have to understand that finance is extremely local. And so when people were like, "Why are you going to Mexico? There's a few players." And I was like, "Yeah, but nobody's really cracked it because 65% of Mexico has never paid with a card." And so I think that you need to really spend the time to understand the culture, build that trust and the product set that each market needs. Which is why some players, when they go international, they lose the focus of understanding the market. And they think that whatever worked in Germany will work in the United States. And it's not necessarily the case.
Will Beeson:
Excellent. Pierpaolo look, well, thanks so much for your time. Really, really fascinating to connect.
Pierpaolo Barbieri:
Really a great pleasure to be here and thank you for having me and congrats on all the amazing people that you have here.