blockchain
Competing to Win as an Emerging L1 Blockchain with NEAR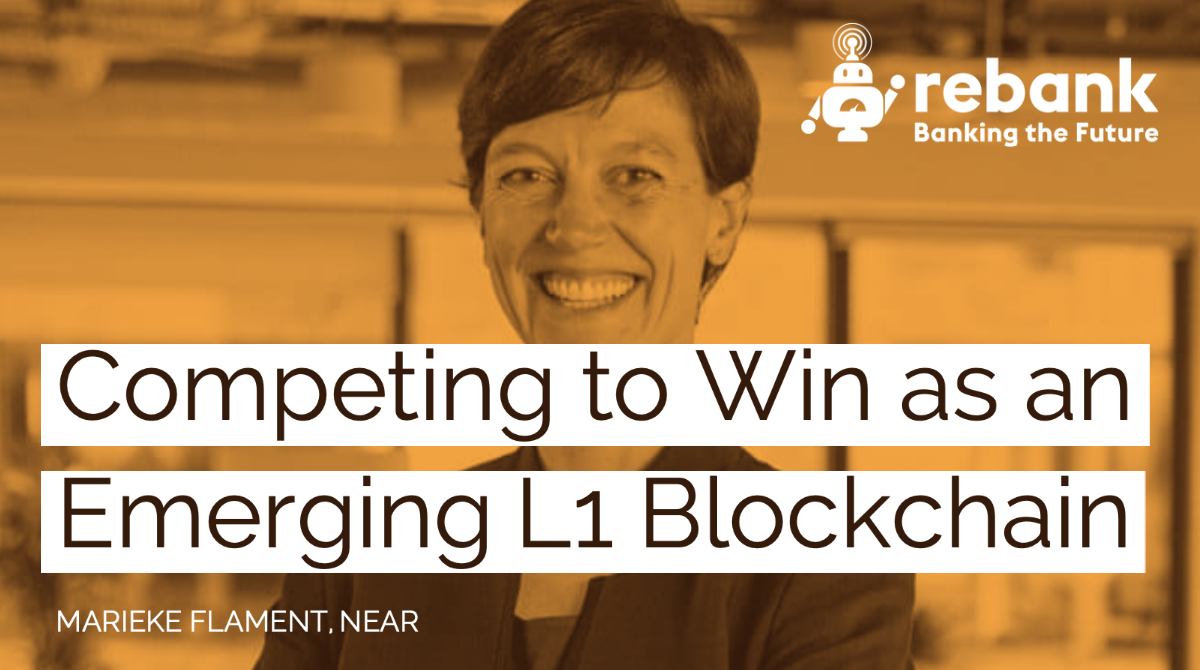 ---
Recently, we wrote a deep dive analysis of NEAR Protocol, an emerging L1 blockchain, available to Premium subscribers. Today, we're releasing a conversation with Marieke Flament, CEO of the NEAR Foundation.
NEAR is an emerging layer 1 blockchain specifically optimized for usability, along with speed and security. NEAR was founded in 2018 to improve on aspects of layer 1s then in existence. In its short history, NEAR has built an extremely strong institutional backing and vibrant developer community.
NEAR has raised an impressive $530m+, according to Crunchbase, from an incredible list of investors including Tiger Global, FTX Ventures, Jump, Alameda, a16z and many more
As CEO of the NEAR Foundation, Marieke is responsible for ecosystem development across developers, entrepreneurs, investors and users.
In this conversation, Marieke and I discuss competition among L1s, NEAR's efforts to establish a foothold as a newer protocol, developer and investor motivations in selecting blockchain infrastructure, opportunities and potential risks deriving from NEAR's institutional investor base, prevailing web3 developer and entrepreneur sentiment given current market conditions, balancing growth and community stewardship as an emerging L1 and much more.
If you're interested in this space and want to go deeper, check out the deep dive here.
Full Transcript:
Will Beeson:
Marieke Flament, welcome to Rebank.
Marieke Flament:
Thanks for having me, great to be here.
Will Beeson:
It is great to connect with you again. I think you were at Circle a handful of years ago when we last connected face to face in London. And here we are a few years later talking about adjacently a connected subject matter, but, but also very different subject matter in a different time and place. It's great to see you again.
Marieke Flament:
Yeah, thank you. I can remember, you know, those were the times where you could be face to face in an office <laugh> and how much have things changed, whether it's that, or even like the crypto blockchain space.
Will Beeson:
Totally, totally. So listen to, to kick things off, I'd love to just dive right in. You're the CEO of the NEAR Foundation. And, and I've given some context about NEAR and your work in the, in the intro. So given all the success that NEAR has had in terms of fundraising, in terms of early on, at least building a vibrant developer ecosystem, nonetheless NEAR is competing in a, in a already large and, and, and growing, and in many cases quite evolved L1 ecosystem, Ethereum is, you know, far and away the leader in terms of activity. If you look purely at TVL NEAR's TVL is very small. Yet you're extremely well funded with a lot of emerging activity. How do you compete as an alternative L1 in a space which is already to an extent solidified around a few leaders.
Marieke Flament:
Yeah, and I, I think, I think that's a great question. So it's always like, if you look at actually the landscape of layer one, there is something like, I think a hundred, 150 different layer ones. The thing that over and over, I hear and I see, and why we are very different is actually usability. So usability, not only for end users. And if you try and open a, a wallet on NEAR, you can have, you know, marieke.near or whatever address, like it's extremely seamless, but it, it goes beyond that if you want to embed NEAR in any web2 app and make a seamless experience for users that's possible. And I think very few chain can actually claim that. And any change that happened on the chain will be completely seamless and, and unseen. So usability for end users and usability for developers, for example NEAR is JavaScript enabled.
Marieke Flament:
And, you know, I think it's great to have all those, like, you know, super chains that are Solidity and Rust, but the reality is that majority of developers are not, you know, able to do Solidity are Rust and, and majority are solid JavaScript. So when you look at the landscape, there is one thing where we are very, very strong and where we can compete. It's actually usability. And then that links me to actually, you know, you talked about TVL and you talked about other metrics. I, I actually don't think TVL is a good metric for success for change, right? Because one thing we've seen over and over is that, you know, you can have TVL in some place, but actually it's actually quite liquid and that can go into another ecosystem. So is that really a truthful metric for, you know, performance and user engagement?
Marieke Flament:
I don't think it is. So the thing we look at, and I think where we're making strides is, you know, how many wallets are actually being created, how many active engaged users are really, you know, using the NEAR protocol and living on the NEAR protocol. And on that some key partnerships that we've done, we've done a partnership with Sweat. Sweat is an app. You walk, you get Sweat points. That app was absolutely not crypto enabled or not you know, on any blockchain now they're embedded on NEAR and they're TGE is soon to come. But if you look at that in less than two months, that it has helped create like 10 million wallets. So it means that now NEAR is like 8% of the total wallet creation in the world. Right? So if you start looking at things like that you know, then you have, like, you can make strides.
Marieke Flament:
So point being the way we think about things is like usability. How can NEAR be the blockchain on which you have billion of users and ideally they don't even need to know that they're on here. You know, it doesn't, it doesn't matter. Like it shouldn't be that. So that's how we think about things, which is, I think quite a very different play from, you know, folks that might look at, you know, TVL or price or, you know, hype type metrics, which I'm not, we, you know, that's not, that's not the drive that we have.
Will Beeson:
Who do you see as your target audience? Right? So you, you lead the NEAR foundation. Your job is to to, to make NEAR successful, you know, through ecosystem building is your audience the developer community is your audience. The the, the token investor community is your audience the, the, the, the public who, who have never heard of a blockchain and, and don't, you know, frankly don't care to have much direct interaction with one.
Marieke Flament:
Yeah. Great question. So three threefold for the audience. One it's actually developers because this is still a space that's so new that you do need developers to actually create any type of project. So developers, audience, number one, audience, number two is actually entrepreneurs. So whomever is thinking of, Hey, you know, what change should I build on what type of ideas can I have? That's the second audience we focus on and the third audience, and I voluntarily put it in that order. The third audience is where we call web3 curious and web3 curious could be, you know, retail, like, Hey, I wanna learn something. Or it could actually be, you know, large enterprises who are thinking like, what can we do actually with, with that technology? So as a foundation, that's how we think about the audience because of where we're at in a stage, as a technology, and also like a broad category, developers are still like the major part of of the audience, right? Without developers, you can't create something. And so that's, that's one point of focus. So, you know, developers, entrepreneurs and, and webe curious would be what we call our audience.
Will Beeson:
You talked about usability as one of the differentiators of, of NEAR and in, in researching the platform. You know, that's, it's very clear everything from the white paper to all sorts of other other references to it. So can, can you, I don't know, give some examples of what that means and how it's how it's manifested in practice.
Marieke Flament:
Yeah. So example number one, I would say if you open a, a wallet on NEAR, you can have from start like a very easy to read username, right. But not only that you can actually secure your wallet in a way that is much more similar to a web two security type threshold. You actually, you choose, right. Do you want to secure your wallets with like a code that we send over SMS over email? Do you want to link it to a ledger key? Do you want to remember your pass phrase? Right. So we give options, which, you know, very concretely, what that mean is that when you, if you have someone for example, like my mom opening a wallet, she understands it, but she's like, I can recognize like the type of things that I have to do for that.
Marieke Flament:
And that's actually native on NEAR. So those are some of the things that actually enabled us to do that. Linking also on that, for example we can do airdrops of of NEAR and enable anyone anywhere to open a wallet and, and have like NFT in it, like straight from a link. Right? So those are the things that therefore, as a user, whether you scan a QR code or you click on a link, you can immediately be, you know, enabled to open a wallet and have therefore do tokens. And the tokens become, you know, you're entry gate into actually the NEAR world. And it's not, you know, it's not the currency, but it's more like, this is the thing that open up the keys for actually participating in a lot of different application. I'll give you another example. And it's, it's actually it's actually a, an amazing website.
Marieke Flament:
So it's called Blogchain and it's a team that's built on NEAR reinventing you know, what blogging is and how you can actually earn money. And if you look at the platform, the way you actually click was your username, and then you're, you're now natively on NEAR. You can earn with every article that you write, that's all that is completely similar. You would ask to people who don't know that it's blockchain enabled. They don't know. Right. So that's what I mean on, on that front, the other part, usability it's, it's more from a developer community side of things, right. And I hear that over and over again, that the, the tools are very easy for anyone to develop. It's actually seamless to understand what you can do with the technology. We are continuously developing more and more, you know, our documentation and making sure that people have the tools and so on and so forth. But the, the biggest credit to that is we launched recently Javascript, SDK enabled. And that's really powerful, right? Because again, it's like this idea that almost anyone should be able to start building something on NEAR as a protocol. So, you know, those are a couple of examples from usability, what it means and therefore how it comes to life.
Will Beeson:
In terms of the ecosystem, how would you, or I guess, let me be more specific the, the tooling and the ecosystem, right. So, so you know, projects functionality deployed on, on top of NEAR, how would you describe the maturity of the ecosystem right now, the, the tool set available to projects and, and, you know, what, what are you looking to prioritize, you know, if you think forward six to 12 months.
Marieke Flament:
Yeah. So, yeah. Great question. So the way, the way I think about it is every crypto ecosystem, if it's not linked to the rest, it's actually on its own bubble. Right. And so what I mean by that is actually there is a certain number of pillars that are called INFR. We can call that infrastructure that are, must have for, you know, the NEAR ecosystem to even exist and be on the roadmap of anything. And so what would be those well you do need to be actually have custodians be on exchanges be embedded into native stable coins. You do need to have Oracles you know, data availability, like all of those things that are like almost the fundamental pillar of, of what's needed, right. We've made tremendous progress on that. You know, we're embedded in, in for example, for custodians Copper and Fireblocks and, and NEAR is more and more organically, also available on, on very key, large exchanges, but that remains like a thread, right?
Marieke Flament:
Because the, the number one thing you'll hear from anyone, whether it's actually developer project owners, or where through curious is that if they, you know, they don't know where, how they can enter the ecosystem and how, where they can do once they enter the ecosystem, then, then it's broken. Right? So that's one part where I would say we've made progress. If I look at, you know, from zero to a hundred percent, I would say we're probably like 60% of the way. And so here's where it becomes challenging is that you can do things at like a macro global level, but then you need to think also very regionally and locally. And so for example, you know, exchanges, I think are fascinating, because exchanges ultimately are quite local, right? So what's the exchange. What's gonna be the number one exchange in the Balkans and what's the place where people are actually are gonna go to defacto start entering crypto as a first step.
Marieke Flament:
Right. So that's why, you know, I think we're just 60% of the road because we still have like quite a long thread of things to, to look at more regionally. So that to me remains like if you don't have that, then actually you can't, you can't exist. And then if we move now more into like the depths of what makes an ecosystem healthy you know, you cannot function if you don't have all the pillars of DeFi, that's just a fact, right? And, and so while NEAR is very focused on, you know, usability and and us user ended application, you still need to have all the different pillars of DeFi, whether it's actually lending, whether it's actually borrowing or whatever, like you do need to have all those different pillars. Same here again, we've made great strides. Having Aurora as an EVM has enabled us also to make strides into that, into that space. Right. again, I would say we're probably, you know, 60% of the way of the road there. And so that's where we're at. And then the rest, you know, the different building blocks and Lego blocks for whether it's for creators and for DAOs, all of that is is there, I don't think we are missing like fundamental pieces and, and building blocks are being added every day. So yeah, but that's how I would think about it. The number one thing is definitely infrastructure
Will Beeson:
In your mind, you know, does, does the future for NEAR look like a, a platform which is, you know, deeply connected into all other L1s which has the native functionality that you're talking about and which lends itself, you know, uniquely well to the support of specific use cases or does NEAR ultimately end up being a kind of generalist platform and, and, you know, potentially the, the defacto or the go to platform for anyone building in crypto and web3.
Marieke Flament:
Yeah. So definitely interoperability is something that we are very acutely, you know, in tune to, and, and aware of and, and fervent proponer of, right. So we have rainbow bridges, our bridge, like we do believe that actually having healthy bridges, really one of the best bridge in, in the entire industry, if not the best, but like having healthy bridges between different ecosystem, that's really important. Right. So, number one on that, like interoperability, we believe super important. Now the question is, you know, is it gonna be a landscape of like five chains or one change? Is it gonna be like Android and <laugh> iOS, or is it gonna be more than that? Right. ultimately we think more being like multi-use cases, but again, because of this usability, like multi cases, but actually because it's so usable, that's where you can have de facto the largest proportion and actually the largest number of users and ultimately becomes a place where you can have really billions of users and use cases that are embedded on it.
Marieke Flament:
You know, the platform is made in a way that it can truly scale and it can, it can remain extremely fast, extremely cheap no matter how how, you know, no matter number of users and number of transactions that are happening on the platform. So yeah, so I would say, you know, interoperability remains key, who knows if it'll be five, 10 <laugh> different platform. We definitely see ourselves being like a major, major player in that because of usability and, and therefore number of users we can onboard and scalability of the platform.
Will Beeson:
NEAR, based on data that I saw for 2021, has one of the fastest growing developer ecosystems. And I'm, you can tell me if that's still the case based on what you're seeing. What, what, what do you attribute that that, that vibrance to, and is it something you think you can work to maintain as a foundation?
Marieke Flament:
Yeah, well, I would say if anything, we see that accelerating it's been really interesting to see developers from other ecosystem proactively come on NEAR and, you know, come because of frustration on other platforms, because, you know, if ultimately, if you have a great idea and, you know, entrepreneur, you want to develop something and the platform you're building on doesn't deliver to your expectations, then you, you start looking for something else. So that we see if, if anything, I don't have more recent data from the, I think it was an Electric report that was done which showed that growth. I think today's like over 2000 active developers that are building on it, but again, that pool of developer is just small. Like it's globally small, I think this is 2000 out of 18,000. Right. And, and so the real game is on, you know, again, JavaScript is like, what is it?
Marieke Flament:
60 million, 80 million developers. So that we've just launched that. And we're really keen to see like how, what type of doors is it gonna open? It's really gonna make it even more accelerate. Right. So I would say, you know, two things, we're seeing one, we are seeing very actively developers from other ecosystems coming on NEAR, which is awesome. And, but number two, because of you know, opening doors to something that's actually more usable and more friendly for more developers we are also gonna see that accelerate. So I think it's gonna be 2022, should be a great year for us NEAR, also like, you know, NEAR was building 2018 at the bottom of the last the last bear market. It's very much like a build mindset. And so build is great for for developers. So I think if anything works, we should see that accelerate.
Will Beeson:
Yeah. I was gonna ask on that note, how has the, the conversation and, and potentially the energy changed over the past two months or so.
Marieke Flament:
So as an ecosystem, we are very well we're very well capitalized. We've been extremely we've been extremely diligent with the funds that have been raised. And so the way we see it is that we are extremely well positioned to weather the storm, right? And, and again, you know, NEAR was not, is not about hype. I think actually we've struggled with that when the market was much more hype it's, it's almost counter DNA, which is difficult because when you are in a hype market, the, the decisions you need to make are almost not rational all the time. And so for, for, you know, an ethos, which is about building and quality, that's counterintuitive, right? So we find ourselves more in our comfort zone, which is actually, you know, building and developing and, and we find ourselves in comfort zone with a very lucky timing of having done, you know, a, a very successful raise.
Marieke Flament:
So it's, it's a very good position to be in. Now that being said you know, of course it's distressful, especially when you look at the ecosystem, it's a lot of, it's a lot of, you know, young entrepreneurs who, some of them have never been through the 2018 crash. And, and haven't seen that a lot of our entrepreneurs also have most of their, you know, wealth and life in crypto. And so you see basically everything collapse, right? So emotionally that's, that's hard. We've also helped navigate. We help entrepreneurs navigate and say like, you know, it's a time to think and cut everything you can and think through your cash flow and how much do you really need and what do you need to survive? Right. This is gonna be about surviving ultimately and surviving doesn't mean doing nothing, right?
Marieke Flament:
Surviving means like placing the right bet. So I'll give you a very concrete example for us as a foundation in, in a high market, we had like a lot of people coming and asking for grants, and it's, it's super competitive. So if you want to get the, the best project, the best grants, it's almost like there is a, a raise to like, how much are you gonna give to certain projects? Even in a high market, we were struggling because some projects you think, okay, the team is great. The project is great, but this is not worth a grant that is, you know, that large. And so now with what's happening, we're able to refocus again on quality and, and honestly quality and also fair capital allocation. Right. Which is like, okay, what is this grant for? What is it gonna build?
Marieke Flament:
Is it an infrastructure piece that is really fundamental for the ecosystem? If it's not how many potential active users is it gonna bring? And if we can value active users, then you can actually give it like a better fairer price. So that we've shifted very quickly as a mindset for the foundation for the ecosystem. And, and yeah, and again, I see a lot of optimism in the ecosystem. I think we're not at the bottom of things, you know, it's a domino, if we're not yet at the bottom of everything that's been unraveled and, and things. So, you know, it's, it's really about thinking through quality building fair and, and right. Capital allocation, and, and also like mental support, I think is actually becoming quite important.
Will Beeson:
How much of in, in your experience how much of developer behavior do you think is driven by token price and potential for token appreciation versus you know, some of the, you know, technical advantages of working on a platform like NEAR and, or, you know, their, their, I guess sense that that the ecosystem is growing and ultimately there're gonna be more users for everyone over time.
Marieke Flament:
Well, I think that question, you could almost ask it for not just developers, but for for anyone, right. What's the intrinsic motivation of participants on it, whether they're actually, you know let's say investors or developers or project builders, or, or just people who are curious, right. Are they motivated by doing something interesting with a great technology to change? You know, it's gonna sound cheesy, but to change the world for the better, or are they financially driven and motivated to actually make personal gain? So I think that question it's, it's valid for everyone and everybody, right. I would say that's where the new ecosystem is is quite, is quite different. Like it's very builder focused. Like what can we build? I see that over and over again, in, in our ecosystem, you know, it, it is projects that are being done not for like financial gain it's projects that are being done.
Marieke Flament:
And I wouldn't say a hundred percent, right. Because it's never true, but it, a lot of projects are being done because they can change things because they're moving decentralization for what, because they're reinventing what, you know, social media stack today is, or, or whatever. Right. and so I think actually what you end up seeing is that certain ecosystem of certain chains might be more with people who are motivated by financial gains and certain ecosystem are, are, you know, more attuned to people who, who wanna build great things and great technology. And I would even say on that, for example Electric capital is a, is a, you know, a fund that was very early on, on NEAR and, and Electric capital. The founders are builders themselves. They are very, you know, deep technologies, they believe in great technology. And so I think in that question basically goes to goes to, goes to every, every possible segment that actually is touching an ecosystem.
Marieke Flament:
And I think it's a great question because that, that means like whatever, you know, ethos, you have attracts a certain type of people. And so yeah, when I look at NEAR it's, you know, the first thing you often hear is like great tech. Like, we hear that over and over again. Right. So great tech, easy to use. But it's not, you know, it's not, you know, you mention it like, it's not TVL, it's not the price. It's not that. And, and ultimately, you know, I wonder over the long run, right. <Laugh> I mean, I think I know, but over the long run, what stays, right? What will remain, is it great tech or is it more, more hype? I think great tech ultimately is probably, is probably more sustainable on the long run,
Will Beeson:
Maybe last you know, super focused question, then we can open it up a little bit and talk about kind of the, the context of what we've been seeing more broadly in the market. But so, so NEAR has been hugely successful over the past few years raising money from VCs and institutional investors. What, what dynamics does that create? What, what incentives does that create for, for NEAR, you know, that might impact the direction of the, of the project that maybe ecosystems that haven't raised so much external capital might, might not deal with.
Marieke Flament:
Yeah. So, you know, one thing, actually, for example, if you think of what's the, what's the board of the foundation it is actually not driven by, you know, the, the investors. And so, you know, there is no like, you know, big brother, because it's, it's not like when you if you are in a startup and you raise capital, then whomever has given, you know, large portion of funds has a sit on the board and that's how it works. That's not the case. That's not the case here. Right. And actually, so the dynamic that it creates, it's, it's it's super, it's super healthy and it's, it's very, it's really good. And I'll explain on, like, for example, a concrete case. So imagine you have a group of, you know, devs, they come, they wanna build on you, they get a small grant and they kick off their project and they do that MVP successful.
Marieke Flament:
Now they're starting to look for funds and they're raising what we're able to do is we're able to say, okay, well, here is all the friends of NEAR that you can actually go to and raise and raise from. And we can also say in our ecosystem, you do have certain ecosystem funds that maybe are focused on your area of business. So we have certain regional funds that might be focus on the region where you art, or you have, again, like this book of investors that you can actually tap into. And it's your job as an entrepreneur to go and pitch to them. What we also do is we do the flip of that because we're very connected to the ecosystem. We're able to say, Hey, you know people who are interested in NEAR as an ecosystem, those are the projects who are raising.
Marieke Flament:
And, you know, they had a grant from the foundation and they've been making strides and they've been making progress. And now here's where they're at. And, and they're actually raising funds. So that enable, you know, basically a flywheel of, you know, more capital coming through and also like a pathway for developers and entrepreneurs as they grew. And as they go into that into that space. The other part I would say is that, you know, if you, so that's one pathway, right? But if you imagine, for example sometime entrepreneurs will come to, to VC directly and say, Hey, we have this idea we want to actually build and we haven't chosen our chain yet. Well, the other benefit is actually that, you know, once, you know, backers and investors also understand more your ecosystem, then I also able to say, well, have you thought about new, or have you thought about those change and how do you compare that?
Marieke Flament:
Right. So it's ultimately, and I know it's been criticized a lot for like centralization. I don't see it at it like that at all. I actually see it as like a total redistribution, which in a way, you know, the way capital is allocated today, thanks to web3. It's totally different from what you have in like a normal startup, which is actually quite, it's quite opaque. You don't know, and here you have much more, it's completely fluid communication line of everything that's constantly happening. And ultimately it means that it's much more developed by verticals by regions and, and, and quite similar. So yeah, so that's, you know, that's what we see in terms of positive loop and, and helping, you know, reinforce and again, like distribute you know, distribute more capital for more people to come and build.
Will Beeson:
Yeah. I mean, it feels like there's a potential sell pressure for, for the token at certain, you know, price points, depending on where investors got in. And depending on, you know, any lockups that may have been associated with with fundraisers, how do you feel about that? And, and, you know, do, do you feel like you have, you have opportunities through, you know, investor engagement to, to try to manage that risk?
Marieke Flament:
Well, again, great question. Right. and that's where it depends. What type of investors do you have, right. Do you have people who are long term in it with you, or do you actually have people who are, you know, very short term and the first minute they can actually make a game they'll, they'll sell you off? So I think that's something that we've, you know, we've also looked at balancing it's a balancing act, but I would say again, we do have a lot of people who are in this very long term because again, of the technology, right? So it's like, if you are with people who believe that it's gonna be technology driven and the, the solidity of the technology is there and has to be there, then that's fundamental. Now, obviously it's also our job to make progress with the capital that is there.
Marieke Flament:
Right. So it's, it's like, it's it's a different environment that you would have in a normal startup. There is more, I would say pressure also to say, like, it, it's almost more liquid, so now what, what is it that you do with that? But ultimately you know, we also com and we do, we do see that even today, right. Because capital has been raised by by NEAR even like since 2018. But it's not because, you know, today some could make a gain that they're actually completely selling that off. So, you know, who, who knows, it's something we obviously monitor quite closely, but I think again, if you do believe long term, and when I think long term, a lot of investors, we talk to think, you know, this is like 20 years long term, right. And this is like a trillion dollar market cap. We're just like, literally at the beginning of that and, and the amount of build and continues that we have to do needs to be there. Right. so yeah, we'll see. But it's it's a fine balance. I would say.
Will Beeson:
Okay. Opening it up a little bit, I guess. I mean you know, I, I think I think everyone has been pretty pretty rattled by what we've seen in the crypto markets, let, let alone broader markets, but let's keep it focused on, on crypto. You know, over the past few months, the, the collapse of Terra, the contagion, you know, through Celsius and, and 3AC and, and various others, what, what has been the general, you know, tone at, at work, you know, among the, you know, the team at NEAR the projects that you guys are are, are, are working closely with, let's start with that question then, then we can go from there.
Marieke Flament:
Yeah. So, you know, I think it's it's interesting in six months I feel we've had to deal with more crisis than I've ever had to deal with crisis in my career. And, you know, not that it's comparable at all, but we were as an ecosystem, very affected by the Ukraine war. Right. A lot of actually our founders and builders are from Ukraine and from Russia. And so, you know, that was almost the first very like drastic event happening on the ecosystem. And therefore, like, you know, what does it mean and what do we do and how do we actually react to that? And so from that moment onwards, we've also worked on like, you know, very clear communication for the foundation, for the ecosystem. This is what it means to us. This is what we're doing. And therefore this is how we're moving forward.
Marieke Flament:
Right. And so when, you know, when the collapse of, of Terra/Luna happened, you know, first thing is like, you have those mechanism. And it's really, we reflected on that as like the leadership team of the foundation. It's like, now it's, it's reflects, I don't think it's good because unfortunately it's, you know, it's, it's actually quite sad to have to like deal through so many crises over and over. But what it means is that the playbook the playbook exists. And, and I don't know if you remember how they started your career and people say, oh, you have to do a crisis management plan. And, you know, back then it was like, oh, crisis never happened. And actually now, you know, it does happen so much. Not only do you need to have a playbook, but you need to be able to like execute on it.
Marieke Flament:
So when, you know, when things started happening, number one is actually, you know, what does it mean for you? How do you navigate that? And so the two key factors were, well, one we've been building the last bear market. So we've been through that. We know what it is. And, and we actually, you know, most people who are in the ecosystem know what it's like, right. So we've been able to share stories. People have been able to say, like, I've been here, I know what it feels like. And, and this is what I can share. And factor number two is actually, well, we are well positioned and because we've raised those funds, what we hadn't realized at the beginning, which I think is fascinating now, for us, it was obvious that we were well capitalized and that we had been very diligent with the treasury, but actually, you know, fast forward couple of weeks.
Marieke Flament:
And then people were asking, well, hang on, like, who is managing your treasury and were like, well, we are managing it. Like why, who, who else would be managing our treasury? That's the job of the foundation. But, you know, then you start seeing that the ecosystem other projects had done things differently. Right. And so you start realizing, oh, we are even in a better position than what we thought, because actually we've been doing things that way. Right. So, you know, it's been, it's been a flow of constant, like, you know, communication for the team, for the ecosystem. This is what it, this is what it means. Another thing is also like I'm a big believer that actually moments like that are also moments to become even better. Right. And actually too much money in a hype market can make you you know, it's, it's almost like you don't have to think about things you just have to do as fast as you can.
Marieke Flament:
And actually in a bear market, things become different. You have to be operationally excellent, right? There is no more place for actually you know, certain mistakes. So if you think of how are you organized, are you really organized the best way you can be? And for us, truth be told, you know, we're not. And, and there is like, you know, as a foundation team, can we be operating much more like a startup and super nimble and like actually become even better and take that time to become better? Because when, when you know, it was, it was like a hype market, then you, we didn't have even time to do that. We just had so much coming through. So, you know, those are also some of the things that we're doing and the, and therefore the constant message is like, you know, good position, not a time to slow down time for quality and actually like become even better than, than what we were.
Marieke Flament:
I'm still, you know, I'm still puzzled by, I mean, I mentioned at the beginning, but like, I think it's, the domino effect is not over. And I'm just wondering, like, when are we seeing the end of it? Because when you, you know, we hear from other chain other projects and I'm just, I don't know where the money is coming from. If I'm just honest, I'm just like, so, you know, what is it like, is it like the music has stopped and people haven't realized that the music has stopped or is it like, you know, there is some magic funding coming out of somewhere else. So, you know, that part just makes me think we're not at the end of it. The domino effects continues to unfold will continue to unfold. And then we'll see till where it goes. And our job meanwhile, is just to, you know, heads down, continue executing and focus on quality.
Will Beeson:
Yeah. Yeah. So I, I mean, I, I started my career basically right at the beginning of the global financial crisis. And so I vividly remember you know, the first signs of you know, liquidity issues in like money markets in like summer of 2007 and then Lehman collapsed in the fall of 2008, you know, so more than a year later. And, and, and that, you know, that's the one it's the contagion you're talking about. And two it's, you know, the, the, the domino effect. So, you know, sure. As, as optimistic as, as we all are naturally as, as entrepreneurs and builders it, it's, it's just tough to imagine that within three months, like the, the entire system, you know, clears out everything bad. And, and, and we just kind of pick up where we left off. So at the risk of getting a little bit philosophical having watched you know, Terr/Luna specifically, you know, which I think was just, was so painful, you know, because ultimately like the, the, the success of, of crypto web3 has been easy quote unquote retail access to basically, you know, super wacky, exotic, structured finance stuff.
Will Beeson:
And, you know, for, for many years that kind of only went up into the right and, and, and, you know, until it didn't, and, and, and it's kind of one of those situations now thinking about it, where on the one hand, there's this kind of like, WeWork, Uber, like need to grow, you know, so, so like, what do you have to do to kinda like build hype, build narrative, build usage so that, so that things ultimately work, but at the same time, what are your responsibilities as, as stewards as custodians of an ecosystem you know, where, where people are, you know, not only working and, and therefore, you know, pursuing livelihoods, but also in many cases, investing huge amounts of money who may not have all the, all the protections that they would in, you know, traditional finance markets. I wonder how, you know, how you and the, and the broader NEAR organization think about that balance of growth versus stewardship.
Marieke Flament:
Yeah. And I think that's where it's, it's for me, your question touches on regulations self-governance and actually ethics ultimately, right? And so one of the, one of the thing is like a deep belief that we are building that because we believe it can do it can create a better world, right? You can redistribute you can redistribute power, you can redistribute actually ownership. You can actually make sure that people own their own governance. Right. So that deep belief, sometime I'm wondering, like, are we all on the same page on that? Right. So we start every old hands. We start every town hall with, you know, why are we here? Right. And we are here because we, we do believe that if you look at current systems and if you take Instagram and you're an influencer, well, your content doesn't belong to you.
Marieke Flament:
Right. That's like, that's a fact, right. So therefore, how can we create a world where you know, power of data, power of, you know, owning your content and governance really, really becomes back to you. Right. So that's, you know, that's, that's on that front, right. So what's the what's decentralization. And does it create a better, a better world? And I think sometimes that's something to remind ourselves, right. And so we are also, for example, the bear market is a good reminder of that, right. Builders in web3. Why, why are we here? Right. Why are we here? We're here ultimately, because we, we deeply fundamentally believe that web3 can do things in a better way. And therefore, if you think in a better way, then you have you know, self-governance like, how do you protect? How do you protect people, right?
Marieke Flament:
How do you actually have best intention at heart for really creating that world and not and not actually having, you know, people lose their entire wealth and, and life and livelyhood over that. And so, you know, that's why I think it really touches it really touches like ethics and mindsets and, and what, we're, what we're here to build. Now, I think the thing that's actually heartbreaking is really like, you know, an example like Terra/Luna is, is gonna do a lot of damage on, on the entire space. Right. And, and you can really hear it. You know, regulators are, you know, it's a bit like we told you, we told you, so like we told you, we have to step in. We told you we have to do that. And that's, that's sad, right? Because not every ecosystem is like that.
Marieke Flament:
And, and it's like, it's almost like one example that's gonna penalize the entire, the entire industry. But ultimately, you know, it is our jobs as builders technologies to think through the impact and the, and, and the consequences of what we're doing. There is hundreds of years that have been happening of, you know, you know, what could happen and, and, you know, as human being, what are we motivated by if we don't think of those biases? And if we also don't try to protect, ultimately people who are gonna use it, then, then it's problematic. Right. So I agree with you. I think it's philosophical, but I think it's like for me actually technology is extremely powerful, but technologists have a duty to think through consequences of what they're building. And that's ultimately that question. And I think sometimes in, you know, hype market, like, you know, can I get can, you know, if people think, can I get rich quickly, then that's a completely wrong motivation, right?
Marieke Flament:
And, and you should not be here for that. Like, actually you have a great tool in your hands. Where can you make, you know, can you do something with it? That's gonna be useful and helpful and help create a better, because honestly, like we are in a, we are not in a good place, right? Like, you know, climate change, inflation at all time high, like conflicts everywhere. Like if you look at the broader picture, there is an urgency to really do something. Now we have technology, we can do something. Can we use that technology to do something better?
Will Beeson:
Well, great place to wrap up thoughtful, thoughtful answer, Marieke, such a pleasure to to connect with you you know, very impressed with everything that, that you and NEAR are working on.
Marieke Flament:
Thank you so much. This was a fantastic conversation,
Will Beeson:
Marieke Flament, thank you very much for joining us today.