banking
Episode 50: How to Start a Fintech: Asset Management Software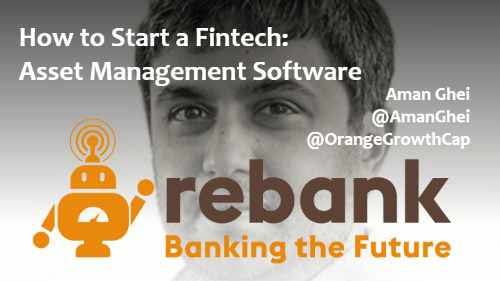 ---
Aman Ghei is a Principal at Finch Capital, a London- and Amsterdam-based venture capital firm focused on high growth fintech companies. Prior to joining Finch Capital, Aman worked at Facebook and Accel Partners.
Aman first joined Rebank for Episode 37, together with Alvaro Alvarez del Rio, where we looked at similarities between fintech and other tech verticals, including video games.
We're trying out a new format in this episode. Rather than breaking down high level trends like we usually do, we're going deep on a single business model from the point of view of the investor and the entrepreneur. Today we look at the opportunity in wealth management software, leveraging tech to provide automated personalized financial management to the masses. Let us know what you think of today's format. If you guys like it, we'll get some more VCs on in the future and do it again.
As always, connect with us on Twitter, Facebook, LinkedIn or on our website at www.rebank.cc.
If you like today's show, please subscribe on iTunes, or your podcast platform of choice, and leave us a review.
Thank you very much for joining us today. Please welcome, Aman Ghei.