payments
Payments Dominance, $1 Billion in Investments and Facebook Libra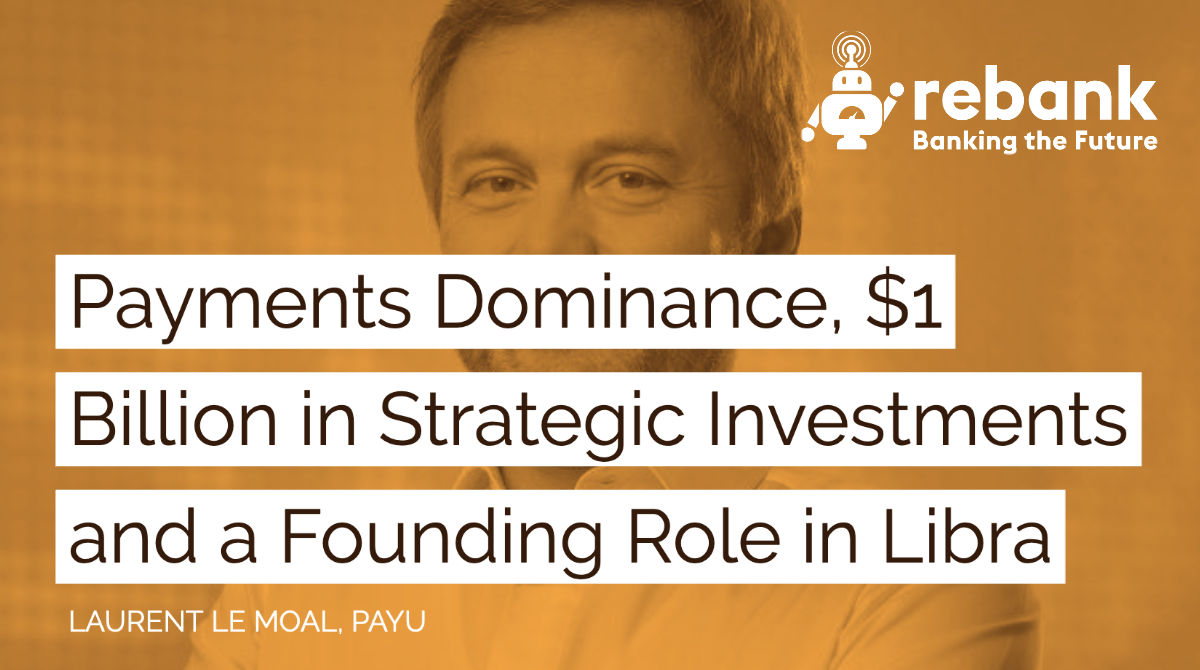 ---
Laurent Le Moal is the CEO of PayU, a leading emerging markets payments company and part of the Naspers group.
As CEO of PayU, Laurent has grown annual volumes to nearly $30 billion and overseen close to $1 billion in strategic investments in companies including Citrus Pay and Paysense in India, Iyzico in Turkey and Remitly in the US, where he is also a member of the board.
As if that weren't enough, Laurent and PayU are founding members of Facebook's Libra project, which we touch on in this conversation.
Prior to joining PayU in 2016, Laurent ran EMEA for PayPal.
For all of our past episodes and to sign up to our newsletter, please visit www.rebank.cc.
Thank you very much for joining us today. Please welcome, Laurent Le Moal.
Full transcript:
Will Beeson:
Laurent Le Moal. Laurent Le Moal, welcome to Rebank.
Laurent Le Moal:
Hello. Hi, thanks for inviting me.
Will Beeson:
Oh, thanks for joining. I'm very, very happy that we were finally able to connect to this. I think we were reminiscing right before we hit record about when we first met on the rooftop of a WeWork, I think in the City of London with a mutual friend of ours, Alessandro Hatami. It just feels like those days are so far behind us now, being all in person, standing confidently on top of a WeWork and watching a beautiful sunset in London. It's not something that could happen anymore.
Laurent Le Moal:
I know, I know. We do have big questions about, how is the new normal going to be, right? Look, I think for me, the same questions could apply to if we were to talk again in 2030, how would we look back over this year of 2020. We would remember like, "Do you remember this big COVID episode, right? Where were you during the lockdown? What were you doing?" So I think this is the same questions that we are going to have to face, which would be going out of this lockdown into one of the biggest recession ever. That's the new normal. So let's see. Let's talk about it.
Will Beeson:
Well, I'm worried I'm not going to have a good answer for my grandchildren. Where was I and what was I doing during the lockdown? Certainly nothing exciting.
Laurent Le Moal:
But they will ask you. They will say, "Grandpa, tell us about the lockdown. How was it?"
Will Beeson:
All right, Laurent. So for context for the audience, can you quickly introduce yourself and tell us a bit about your work?
Laurent Le Moal:
Yes, absolutely. So my name is Laurent Le Moal. As you can hear from my accent, I'm French, but I'm also half Italian. So it's not as bad as it sounds. I've been working in payments for 15 years with PayPal, now with PayU. Before that, I was actually an entrepreneur with my own company in Italy. I started one of the first job site in Italy. So when I step back and I look at this, I've gone through a few crisis, right? I've gone through the internet bubble popping up in 2001. I've gone through the financial crisis of 2008. I've gone through the Russian crisis of 2014 because actually my wife is Russian, and I spend most of my time in Moscow, strangely enough. All of these has prepared me to go through these current crisis. So that's basically in a short nutshell my background.
Will Beeson:
Can you talk a little bit about the work you did at PayPal during the time you were there? I think it was maybe 11 years or so. Just high level, what you were looking at and the developments that you watched take place.
Laurent Le Moal:
Well, yeah. I can tell you the whole story, right? Because that's quite fascinating for me still today because look, first, you've got to believe in serendipity, right? At the time, in 2004, I just had finished my MBA at the London Business School. Like any MBA students, I was looking for summer internships, et cetera, and I came across these guys in Richmond. Three guys were working for these American company that was not very well known at the time in Europe called PayPal and through the MBA network, et cetera, met one of them, Mario. The guy told me, "Hey, look, that's good. We're looking for an MBA intern to do a market study about what is the potential of PayPal outside of eBay." That was literally the brief I was given.
Laurent Le Moal:
I did summer internships working on that for three boats. Then I still remember having to present the conclusion, my conclusion, as you can imagine, like, wow, "There was a bright future for PayPal outside of eBay." The question then was like, "How do we go?" I say, "Well, for that, I need a job." This is how I got a job at PayPal in 2004, really purely out of this summer internship. So I was one of the first employees of PayPal in Europe. I mentioned that because all of the people I work with, I still work with some of them, right? Mario is working with me, managing all of the payments business of the PayU that's out of India. The legal council of PayPal at the time is our now board of advisors, et cetera.
Laurent Le Moal:
So the point here is you've got to be so lucky when you join one of these companies, which is truly a rocket in terms of growth because the people you meet are going to be with you for the rest of your career. You build very strong relationship. The second thing is this was one of the time where it depends how you defined the industry you work with. PayPal was not really about payments, right? It was really about connecting consumers between them, the original P2P, making payments easy, and the payments industry was still very, very boring at the time, right? Things have changed dramatically.
Laurent Le Moal:
So that moment in time, 2004, this is a group of people in a corner office in Richmond trying to dream up big plans, and that's how it started. I stayed there for 11 years. I left just after the IPO, summer '15. At that time, I was managing Europe, Middle East, Africa. So I've been very lucky.
Will Beeson:
So after PayPal, you joined PayU, which is one of the most significant payments companies in the world. But it's probably one of the least well understood companies in the US, UK, and other parts of the developed world. Can you tell us a bit more about PayU and why it's so relevant?
Laurent Le Moal:
Yeah. Absolutely. So for that, I think it's important to understand the context on how you move from one company to the other. I think, for me, coming out of paper, right, where you've been blessed opening new markets, pushing new products, et cetera, what I truly enjoyed most was really working in high growth markets, complicated markets, Russia, Africa, Latin America, very complicated markets. Yet if you project yourself 10 years out, do you see where most of the growth is coming in terms of economies, in terms of population? This is how I came across a group like Naspers first, which is South African group of origin, 100 year of history, one of the first early investors and company like Tencent, one of the first investors in markets like China, but also India.
Laurent Le Moal:
In that group, there was this little company called PayU, which I agree with you. Very little was known about this. But also, very little was understood about the potential. I think that's the key thing is it was all about the potential of adding a payments company in all the highest growth markets around the world and bringing that together. So I joined PayU really with that mission. One was to really build the number one payments company for high growth markets, India, Africa, Central Europe, Russia, to the key Latin America. Two, to build not just a payments company, but a broader financial services company. I think maybe we can develop that later is payments is basically just the right to play in the broader financial services space. And three, move from a pure operator mindset to an investor mindset, meaning being the corporate investor fueling the growth of fintech in these markets.
Laurent Le Moal:
So these were really the three objectives for me in joining PayU, and then it doesn't matter how known is the company? Actually, you want something that is not well known and not fully developed because that's where you can have the biggest upside. That's what we've been doing now for four years.
Will Beeson:
In terms of the actual business, what's the core value prop?
Laurent Le Moal:
Yeah. So on that one, it's very easy. PayU is a payment gateway. Okay? What it means is it's enabling merchants to enable transactions from 300-plus payment methods around the world. Okay? So that's the value prop. The value prop is as e-commerce continues to grow cross-border becomes an even more important part of this. Having just payments from card, like Visa and MasterCard is not enough. In the markets where we are, two out of three transactions are not made with Visa and Mastercard. They are made with local payment methods.
Laurent Le Moal:
So if you are a merchant, doesn't matter what is your size, small, local merchants or big, cross-border of merchants. If you want to grow, you need basically to offer all the payment methods to your consumers, and that's what we do. How we do it makes us different from what PayPal company. The way we do it is, one, by adding regional platforms. Let's be clear. I don't believe in global payments company, that's just not true. Every company relies on a set of partners to process all the payments around the world. For us, we add regional platforms. Two, we connect directly with all the banks to provide alternative payment methods, but also provide better conversions because you have the direct connections with them. Three, at the end of the day, if you want to serve big global merchants, these guys want everything. They want payment methods from all around the world, but they want one single API. How you do that for us is adding regional platforms and building on top of that, what we call the PayU Hub, which is a global layer.
Laurent Le Moal:
So you can give one API to a global merchant and then on the back end, still have the value of adding all the regional platforms. So that's really a value prop, connecting consumers from high growth markets, giving them a possibility to use alternative payment methods, and three, adding regional platforms.
Will Beeson:
How does that pitch compare to an Adyen or a Checkout.com, which also looked to be like a single point to process all types of payments?
Laurent Le Moal:
Absolutely. Actually, we know both of them very well. In the case of Adyen, we work with them very closely. They are one of our biggest partner. Okay? I think Adyen and Checkout are two very successful companies who truly understand very well how to serve very big global merchants, who want to add a very simple way to integrate a payment method with one single API. I think these guys have done a fantastic job. The reality is these guys also need partners in the different companies to get access to the alternative payment methods. That's why in the payment space, we can still work together. We might be competing directly on some merchants, and we can be actually even more working together, cooperating in other geographics.
Will Beeson:
Yeah. That has to be one of the biggest head scratchers for nonpayments people about the payments space. It just feels so complex, i.e., everyone seems to be a direct competitor and a partner and a supplier and a part of another company's value chain despite the fact that they all more or less to the outsider appear to be operating in exactly the same space.
Laurent Le Moal:
Yeah. That's a good question. To be honest, I mean, this is really first linked to a lot of investors, right, who love simple stories about winners take all. Payments as an industry, it's not truly a winners take all industry. Okay? Scale is important. I'm not saying that, right? And we can talk about consolidation. Scale is important. But it's not winners take all. On the consumer side, if you look at all the different payment methods, cash, cards, bank payments, and so on, wallets for that matter, every payment method is not displacing the other one. All right? Is not killing the other one. Is just another way to grow the market faster. Right? And it's in addition to. On the merchant side is the same.
Laurent Le Moal:
To your questions, the payments industry indeed is complex. It's a very long value chain, and it's super fragmented, at least region by region. Okay? So the reality is, for one player to be able to really have one unique global platform with access to all the payment methods, all the acquiring licenses, et cetera, et cetera, first will take a huge amount of money, two, will take a huge amount of the time, and three, the problem of the payments industry is been around for 70, 80 years, right? I mean, more than this, of course, but payments industry, I would say the modern one with cards, for eight years. So you can imagine the level of legacy systems that you have to deal with.
Laurent Le Moal:
So technological depth is even more acute as a problem in payments and in financial services than in the other industries. What it means is that there is not really one single player that can take everything, and there is no single one single clear that can be completely autonomous and self-reliant. You need to work with others. Now, some of the exceptions may be around some of the wallets, right? In China, like a WePay, for instance, or AliPay, right, which are much more in control of the whole value chain. But for the rest of the world, that's the complexity. With that complexity, it means a lot of cooperation. That's a long answer to a short question, right?
Will Beeson:
Well, a short, but a hard question. You mentioned before in describing PayU that part of the vision was to expand the offering beyond payments into other parts of financial services. I think it's a fascinating point. It's obviously not specific to PayU. It's pretty much anyone in emerging financial services. You start with, one, core proposition, but then seek to expand that into other areas. Can you talk a little bit about your vision at PayU?
Laurent Le Moal:
Yeah. I think actually on that one, there's two points. If you think about a payments business like ours, what are truly the two assets that we are? One is the distribution network that we have built over time, which is basically all the merchants for which we process payments. Okay? That piece of real estate, your checkout page of the merchants, that's one of the assets we have. That's a distribution network. The second one is the data that is generated with all the transactions that we process. By data, I truly mean the knowledge of who is buying what, where, how, how frequently, et cetera, et cetera. These are fundamentally the two assets of a payments company.
Laurent Le Moal:
Now, if you think of the business model of payments company, it doesn't change much, right? At the end of the day, it's a lack of tool business, right? You have a lot of transactions, and you take a little piece of it, right? Either you take a percentage, if you're lucky, like a PayPal, great business model, or you add a small fee on top, like payment gateway. Okay? That's pretty much. That's always been the business model. I believe that that business model has still some years, okay, in front of it, but could truly be disrupted. How do you disrupt that? You can disrupt it in two ways.
Laurent Le Moal:
The first one is, well, if you are able to extract value from the data, what you want is to have as much data as you can, and you don't have to charge for data merchants. What is truly the value is just give me as much volume as I can because that's the value. I don't need to charge you 10, 20 per transaction. Why would we do that? Because you can use the data to do something that is much more powerful for the consumer and the merchant and much more, by the way, profitable, which is consumer credit. Okay?
Laurent Le Moal:
So that's one of the big implication of that is moving from that traditional business model to a business model centered around data and to enable consumer credit. One part of that is, but why is consumer credit better than payment? It's not better than payments, is just a bigger question. I always say in the markets where we are, the ability to pay digitally, that's a problem that is being solved by a lot of different players. We are not that far from solving it, and actually, with this crisis, this has accelerated the shift to digital, right?
Laurent Le Moal:
The bigger problem you have is still the problem of affordability. You might give the possibility to people to pay with their phone. The reality is the bigger problem for merchant is still, how can people afford it? What is the affordability solution? Here you get into the hard problem of our incumbents. Are banks doing their job at providing new, innovative services to these consumers. It's fundamentally consumer credit. It couldn't do that a few years ago. You can do it now just because you have access to data, which means you can build completely new credit risk model, and then you can basically build a completely new business.
Laurent Le Moal:
That's why I believe for us, the best opportunity we have is continue to scan our payments business as fast as we can, but really use all of these to build something new from scratch, which is a consumer credit business.
Will Beeson:
In seeking to make that transition, it seems from the outside like you guys are doing a lot of the legwork yourselves, and you're also, and perhaps this is part of the Naspers heritage, making some significant strategic investments in other players. I think PayU met may have invested hundreds of millions of dollars already in other payments companies around the world. I think Remitly is one example. Can you talk about the strategic investments work that you do and how that fits into the strategy?
Laurent Le Moal:
Yeah, absolutely. You're correct. We are blessed to be parcel of the group like Naspers which has a big balance sheet but has also a culture really of checking and backing entrepreneurs and accelerating growth through investments. What it means is the first question that we ask ourselves when we consider an investment is, is it reinforcing our core business, which is payments and credit? If it's accelerating our core business, we should truly own that business. Right? We should control this asset. We should merge it with our assets, right? That's why a lot of investments we've done, actually, close to 80% of the investments we've done, have been done through acquisition. Okay? So truly taking control of a company, retaining the founding team, but really putting these together inside PayU.
Laurent Le Moal:
Example of that, we've got companies in India like Citrus, the number two payment gateway integrate this. We've done the same in Turkey with iyzico. We've expanded our value prop in India also with [inaudible 00:22:49] to serve the bank, et cetera. So multiple example. The second thing, what we look at in an investment is if it's core business, does it accelerate actually our growth, right? What is truly the benefit of that? Here, what we've done is actually sometimes take minority positions to see how the companies will perform, to see the reality of the synergies with our business, to get to know each other, but then really with a path to control. One example was Paycents in India. This was a company started by your next PayPal, by the way, doing consumer credit. We had some synergies together, again, using a merchant distribution network. We were one of the first investors. We took minority positions. We did a few rounds with them.
Laurent Le Moal:
By the time these guys were ready really to scale the business, we knew them. We were already a large shareholder. Synergies were already real. We felt confident to actually put $200 million and buy out the company and retain the founding team. So this is a second story where you see it's not just acquisition to get to scale quicker, is minority investments to build a new product, a new business, and the moment you feel confident about the synergy, then you get to control.
Laurent Le Moal:
The third one, it's fintech, and that's the beauty of fintech. It's not just of course payments and credit. It's other areas that might add some synergies with us, but it's not truly a core business. So here it's a different objective. The objective is more to invest in companies that we truly believe are solving a big problem and where we really lacked the founders. Remitly is one of the best example, US-based company. Really focusing on migrant populations, sending money to India, Philippines, Latin America. Great founding team, very, very slick product, great value prop, and I would say a truly mission-driven company. For us, it made sense to back these guys because we truly believe in their future. But at the same time, it's not a core business, right? So minority investment makes more sense.
Laurent Le Moal:
So that's how we think about investments. Bottom line of that, we have invested around a billion dollar in four years. Last year was one of the most active for us, and I believe we are one of the biggest fintech corporate investor, absolutely, around the world.
Will Beeson:
So if we switched gears a little bit and kind of hone in on the current crisis that we're all living through, can you talk a little bit about how customer behavior is being impacted in the key markets in which you guys operate?
Laurent Le Moal:
Yes. So look, as you can imagine, if you look at the overall payment space, right? Look around it into four quadrants, right? Two dimensions, online, offline, small merchants, big merchant, okay? Today, if you are a company operating in offline for small merchants, you are truly having a very hard time, right? Just because the lockdown is pretty much the same all around the world, right? Which means offline transactions have gone to zero, right? So these are severe repercussions on payments company focusing on that. Not just the transactions going down, but also risk of bankruptcies and so on.
Laurent Le Moal:
On the other side, of course, if you are doing purely online and serving a lot of the big merchants, you are in a much better spot. This is the place where we play, right? So what it means for us is right now, we are seeing really the shift to digital, of course, because there is no alternative. So we see merchants going up 80%, 90% year on year basically having level of volumes that you only see usually around holiday shopping, right? Now, the question is, will it last? I think so. I think what we are seeing in countries like India but also it's true in Latin, it's true in Africa is that specific moment in time where digital is the default way to buy [inaudible 00:27:24] has accelerated the shift from the consumer base by five years, minimum.
Laurent Le Moal:
So it's really just accelerating the trend. It means that cash on delivery, which was still a big part of e-commerce in these markets has gone down to zero. Adoption of digital payments, and in these countries, again, when we say digital payments, we are talking really about mobile payments, right? This is close to a hundred percent of all the transactions, right, has gone through the roof. So I think for us is truly an exploration, and it's a step change. So it's going to be there.
Laurent Le Moal:
The second thing is you didn't need to convenience big brands to have an online presence. It was always tough to bring small merchants to online. Here again, we've seen a huge shift and a huge demand for small businesses basically to start operating in an online world. How can I set up my shop? How can I start accepting payments, et cetera. So I think that one is here to stay with us.
Will Beeson:
In most advanced economies, let's shift to digital financial services, has seemingly been viewed by regulators as serving more affluent customers at the expense of the financially excluded. Anytime anyone in the US or the UK or parts of Western Europe start to talk about, "This is digital only. We're not going to build bank branches." The regulator pushback is always, "Okay, you're going to exclude segments of the population that are at greatest risk." But actually, in the emerging countries in which you're operating, it sounds like you're facilitating more transactions for people who previously perhaps wouldn't have been able to make those. Can you talk a bit about that dynamic and to the extent you have a view on that kind of Western regulatory approach, what that might be?
Laurent Le Moal:
Yeah. Yeah, I agree with you for the kind of Western world, right? Because there is still a bit of digital divide. If you push too much to digital solutions, you at risk at excluding a part of the population. But now, I give you a counter example. Take India. This is the typical country, which for me is fascinating because this is a country that has completely leapt-frog from a lot of Western economies, right, in terms of adoption of mobile. You see player like Reliance Jio. These guys have done incredible work to provide access to the mass market in India to data with their mobile. I mean, India is one of the top countries in terms of mobile data consumption, well ahead of developed markets like in Western Europe, for instance. So that's one. The digital divide is not the same actually in these countries because leapfrogging has happened.
Laurent Le Moal:
The second thing is you have also, if you take the case of India, a very dynamic, sometimes a proactive regulator. What these guys have done with UPI is fundamentally built a payment system from scratch in just a few years to enable anyone to make a payment using their mobile phone from their bank accounts. This is the stuff that take 10 years in Europe to happen. These guys have done that just in a couple of years, and this is actually the fastest growing segment in India, people using UPI to make payments.
Laurent Le Moal:
Now, the third thing is there is this misconception that in these markets, there is a huge unbanked population. Yeah. Again, I said misconception because if you look at the data, actually, in a market like India, people do have a bank account. This has been so. You have a lot of players, payments, bank, et cetera that have pushed innovation so that everybody can have a bank account. The problem for liability is still the same, right? But the problem of bringing these people to have a mobile phone, to make digital payments using a bank accounts is being solved, actually.
Laurent Le Moal:
So I think here, the key question now is more, okay, this digital divide might not be relevant anymore. Why is it still that you can bring to these markets to actually facilitate the inclusion of people in the broader financial services space? As I said, the first one is around giving them access to consumer credit because it was still limited to the top 1% of the population, the population that have a job with a paycheck at the end of the month, with the credit card, there's only 16 million credit card right in India. Why is that is because you need alternative data to actually build new credit score. I think this is where the opportunity is.
Laurent Le Moal:
So I think to your initial questions, high growth markets, India for instance, and of course, that's the same in China, I think the model is completely different from what we've seen in Western Europe, and I would say these misconceptions, this is why also a lot of US or European companies have not been successful so far there.
Will Beeson:
If we dig into that a little bit, are there any learnings, do you think, from emerging markets that more developed markets could take on as it relates to digital to solve financial inclusion or indeed solving financial inclusion more generally? It feels like a lot of the conversation around financial inclusion and creating services for the unbanked or underbanked in developed markets is almost more of like a charity oriented conversation as opposed to a building viable private sector business models that align interests between investors, businesses, and end users. Digital would seem like the way to do that because it allows you to deliver the most efficient, lowest cost services and therefore build a viable business even on smaller dollar amounts in terms of transaction volumes. Any thoughts on that?
Laurent Le Moal:
Yeah. Look, I want to be positive also, right? I think one thing that we've done very well in Europe coming out of the previous crisis, the financial crisis, was actually all these innovation around digital banks, call it whatever you want, challenge of banks, new banks, digital banks. But this new generation players, the Revolut, the N26, the Monese, the Monzo, et cetera, right? I think that one, especially in Europe, has worked extremely well so far, right? There's always a question about how profitable can it be. But the reality is we've seen the success they've had in, one, creating a completely mobile and digital product. Okay? So completely changing the game, no branches, et cetera, building a banking stack from scratch.
Laurent Le Moal:
Two, pushing this across multiple countries at once. Big banks, at the end of the day, they've always explain you it's very difficult to be in different markets, blah, blah, blah, blah. With the old model, yes. But with the digital model, you can truly serve 26 countries in Europe with one app. You can localize it. Okay? Three, it has enabled to go after very specific segment of the population and providing them with very minimum no [inaudible 00:35:34] bank account with a very minimal cost because you have also a lower cost base.
Laurent Le Moal:
The example of Monese, I think these guys have done a great job at focusing on a very specific population of new migrants coming to the UK, but also across Europe, providing them basic banking services at the very low cost. We see that also in the US, right? Can talk about China. We can talk about Remitly, by the way, right? These guys building a remittances business, and now they've just launched their own digital bank. Again, they are the only game in town if you're in the US to basically open a bank account if you're a migrant worker without a social security number. That's fantastic.
Laurent Le Moal:
Now, I think we've done a very good stuff in Europe, and it's starting to come to the US. If I look at other markets like China, like India, for instance, there you see different models, and you see models coming. If you look, for instance, at WeChat and if you to look at AliPay, I think this is for me the best two examples that you can find of consumer focus applications that have then used that consumer base to start going into transactional payments at zero cost just to build the frequency, just to build the engagement and from there, starting to add, one by one, more complex, bigger financial services and start using, WeChat to talk and start using to WeChat to transfer money and start using WeChat to deposit money, to invest money, et cetera, et cetera.
Laurent Le Moal:
By the time these services come together, WeChat is really your financial application. That's fantastic. Now, the question you... Are there some lessons to be learned there? Absolutely. I think the lessons are for the big tech that we find especially in the US. Why does it take you so long to build the same? You have the engagement, you have the consumer base, et cetera. So I think we are going to start seeing this more and more, and I'll take one example, Facebook announcing a big investment, relying on Jio in India. I think this is the star potentially you're seeing WhatsApp moving into something bigger than just a chat interface, ensure proper financial services interface. That's going to be very interesting.
Will Beeson:
Well, that maybe gets us onto the next piece I wanted to pick up with you, which was Libra. PayU is a founding member of the Libra Association. Can you talk about your decision to support that project and the impact you expect Libra to have?
Laurent Le Moal:
Yes. So allow me first to step back first, right? It's like 10 years ago, Bitcoin started, right? I mean, that was the first white paper released of Bitcoin, et cetera. So it's still something very new. But for us, [inaudible 00:38:25] person, always been a very big believer in two things. The first one is cryptocurrencies, and the second thing is distributed infrastructure, right? Distributed ledgers. The two come together. I think what we've seen with Libra is for the first time, people coming around the table. When I say people is different companies. Consumer company like Uber or Spotify coming around the table. VCs, Andreessen Horowitz, right, coming around the table.
Laurent Le Moal:
Payments companies like ourselves coming around the table, and all doing this because we believe in crypto. We believe in distributing ledgers. But we also believe that by bringing together around an association different players, we can solve one of the big problems, which is also consumer adoption of these solutions. So that's one. So I think Libra was really welcomed 10 years after the first white paper to really solve the consumer adoption.
Laurent Le Moal:
The second thing is, of course, building an association, it's not easy, right? I mean, you have different players around the table, et cetera. You need basically a few of them to take an active role. For us, it was natural to do this. So that's why being a founding member means we've been very active from the first time to shape what the association looked like. Two, to actually help build the network, we operate a node of the Libra network. And three, you still need to bridge the gap between what is the world of cryptocurrencies and the world of the fiat currency. You still need a payments company to enable people to transfer dollars into Libra and so on and so on.
Laurent Le Moal:
So these are the different aspects. We believe in that project from the very beginning, and we knew that there would be a lot of challenges. But we stick to it. I think right now, we are really in the second phase of the project.
Will Beeson:
Yep. So that description sounds like you view Libra as being a global solution serving myriad stakeholders, not just a payment mechanism, which is going to help Facebook cut out merchant acquiring fees. Is that a fair characterization of your view of Libra?
Laurent Le Moal:
Libra for us is one of the best answer in terms of, what is a radical innovation in the payments industry to enable payments local, across border at zero cost, bring mass adoption of these solutions to consumers, and make sure that it is managed in a way that is open because it's an association open to new members, and it means that everybody can contribute and shape these, and it's not just one private initiative? Absolutely. We believe this is one of the best option to really address, that was your question before, how do you bring 2 billion people to digital payments? We believe this is one of the way to do that. Doesn't come without challenges, but we believe it's this. Yes.
Laurent Le Moal:
Now, if your question is like, it's more than just a Facebook initiative, absolutely. Absolutely. Facebook is one important member, but it's one member out of 100.
Will Beeson:
All right. So we only have a few minutes left. I'd love to step back a little bit and just get your views on this multi-decade transformation of the payments industry. You're one of the most experienced fintech and payments executives in the world. At PayPal and now PayU, you've overseen and driven some of the most impactful innovations over the past 15 years in payments. What are you most excited about going forward? What handful of developments do you expect to really drive this industry and commerce more broadly going forward?
Laurent Le Moal:
Yeah. So look, as we go forward, really, I think now, what you see is truly payments is not just the game of payments company, right? Payments is an open platform which is truly embedded in every consumer interface. So it's really embedded. Then I would say beyond payments, financial services are truly embedded in every consumer interface, right? I think the WeChat, the AliPay example is that you would see these with mobility players, like Uber, et cetera. I mean, payments are completely embedded... Payments and financial service is completely embedded in their business model, right? I think with the shift to digital now, we're going to see that even more, right? I mean, this is truly the shift to default mobile-based payments coming up, even though the cards, as a form factor, is really going down right now.
Laurent Le Moal:
I think we really going to see this acceleration of mobile-based payments, which means every player needs to embed payments completely in their interface. The second thing is we might see this might be the moment really for big tech to be even more present in the payment space and actually start to replicate, emulate model on WeChat, WePay. I think Facebook has one leg up on that one because of WhatsApp. We'll see how it works for them in India. But I think there is a huge potential, and I think we're going to see really that big tech moment really accelerating into payments and financial services.
Laurent Le Moal:
Three is, look, of course I am biased, but I think we are still very bullish about the prospects for Libra and the model that Libra is advocating. Actually, we see right now how Libra has enabled you to accelerate the discussion, and not just a discussion but the realization that there is indeed a need for central bank digital currencies, right, CBDC. We are going to see a race actually from the different central banks to make this happen. Again, the first one is what? It's China taking the lead on this, already issuing their CBDC [inaudible 00:45:01]. I think we're going to see that in Europe, of course, and also in the US, where CBDC is becoming real.
Laurent Le Moal:
The last one is, as I said initially, payments fundamentally is purely about moving data around. Okay? I think on this one, we're going to see actually less of a global solution for payments. But you're going to see actually a fragmentation of that because data truly is one of the key elements of every nation strategy, and there is a huge nationalistic agenda around protecting the data of consumers for every country. So I think on this one, it means that I don't see payments becoming more global. I see that becoming even more fragmented and beyond huge roles to protect data. So I think companies will have to adapt to that, having more regional models and having more models purely addressing, how do I answer the challenge around data privacy and data sovereignty of nations.
Will Beeson:
I can't let you go without asking whether you, given all your experience, given your background, given the position that you're currently in, whether you'd have any advice for anyone operating in payments or fintech, financial services more broadly?
Laurent Le Moal:
Again, I'm blessed to operate in markets around the world that I believe truly are at the cutting edge. So any advice I would give to other payments guys. Be it executive or a startup entrepreneurs, you really need to reach out and look for what's happening, of course, in China, in India, and Southeast Asia because there is so much to learn from these markets. That would be my biggest advice.
Will Beeson:
Fantastic. Laurent, you are the CEO of one of the most interesting companies in this space doing phenomenal work, and you're also visionary as it comes to the future of payments and financial services. It's amazing to see someone with such vision guiding a company and deploying the levels of capital that you are to create this future. So amazing work. I really look forward to watching all of your progress. Laurent Le Moal, thank you very much for joining us today.
Laurent Le Moal:
Thanks, Will. Thanks to you.