payments
Powering 95% of US Digital Banking with Galileo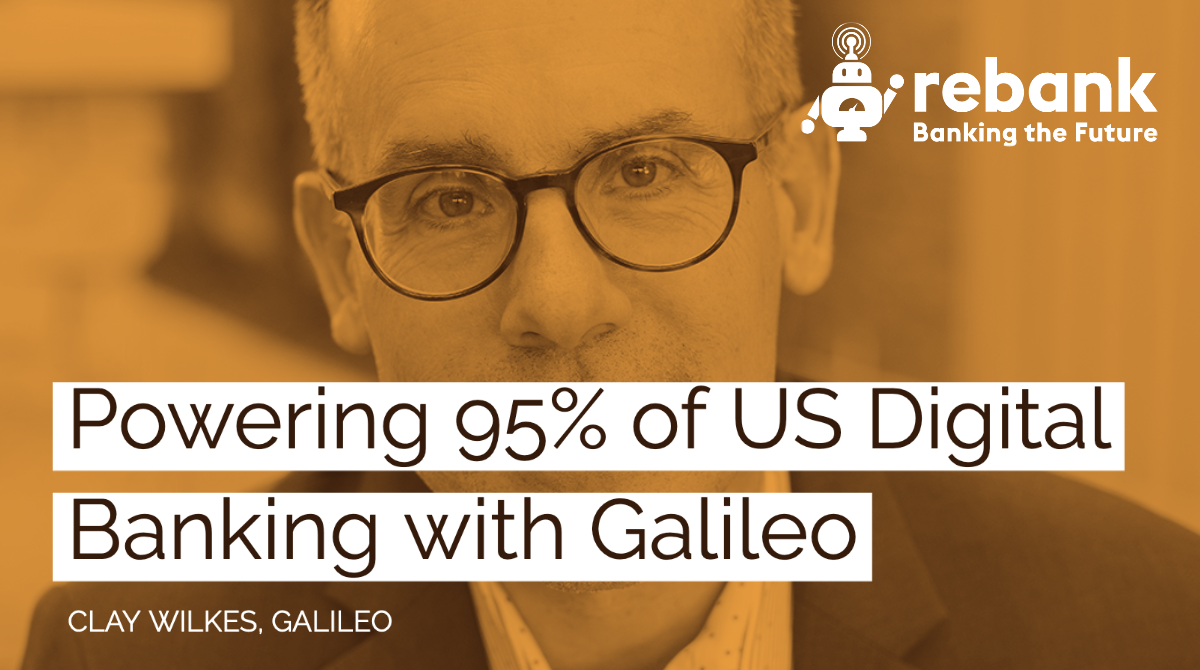 ---
Clay Wilkes is the founder and CEO of Galileo, one of the leading digital banking and payments platforms in North America.
Galileo provides much of the technology that powers banking and payments for companies including Chime, Robinhood and Varo, plus the US operations of Monzo, N26, Revolut and many, many more.
In April, SoFi, one of the absolute leading US fintechs and an increasingly full service financial institution, announced the acquisition of Galileo for $1.2 billion. The tie up will deliver, among other things, SoFi's full suite of lending products and balance sheet into Galileo's API platform, making them available to all of the customers Galileo supports.
Already a dominant player in the US, Galileo is expanding into Latin America, where Clay sees a rich emerging fintech market.
For all of our past episodes and to sign up to our newsletter, please visit www.rebank.cc.
Thank you very much for joining us today. Please welcome, Clay Wilkes.
Note: Here's a link to the US digital banking market share graph referenced in the conversation.
Full transcript:
Will Beeson:
Hello, and welcome to Rebank. I'm your host Will Beeson. Today, we're joined by Clay Wilkes. Clay is the founder and CEO of Galileo, one of the leading digital banking and payments platforms in North America. Galileo provides much of the technology that powers banking and payments for companies including Chime, Robinhood and Varo, plus the US operations of Monzo, Revolut, and many, many more.
Will Beeson:
In April, SoFi, one of the absolute leading US fintechs and an increasingly full service financial institution, announced the acquisition of Galileo for $1.2 billion. The tie-up will deliver, among other things, SoFi's full suite of lending products and balance sheet into Galileo's API platform, making them available to all of the customers Galileo supports.
Will Beeson:
Already a dominant player in the US, Galileo is expanding into Latin America, where Clay sees a rich emerging fintech market. For all of our past episodes. And to sign up for our newsletter, please visit rebank.cc. Thank you very much for joining us today. Please. Welcome Clay Wilkes.
Will Beeson:
Clay Wilkes, welcome to Rebank.
Clay Wilkes:
Thank you so much Will. I'm thrilled to be here. Couldn't be more excited, and great job. I am a huge fan of your podcast, and you're doing an incredible job. I'm honored to be here today.
Will Beeson:
Well, I appreciate that so much. Firstly, I think it's very much unwarranted, but you know, we've tried to be consistent over the past nearly four years now. I think-
Clay Wilkes:
That's great.
Will Beeson:
We'll be up on episode 200 before too long, and it's been fun. It's been amazing to watch the industry evolve from the earliest of episodes when I think maybe we were still talking about Mondo in the UK on like a prepaid card stack, and now the world has changed and we've got $5 billion plus valuations for companies like Chime and Revolut. Not only is the industry taking notice, but consumers are taking notice, and we very interestingly find ourselves in the middle of a crisis, which is forcing everyone to not simply reevaluate digital and the importance of digital, but really scrambled to make sure that they are digital. It's not just fintechs, it's incumbents. It's consumers driving that, and it's operating models and crunch points driving that. The world has clearly changed and, and this digital move as we've seen in every single industry only goes one direction. I think we're finally gaining some momentum in banking and financial services.
Will Beeson:
Clay, maybe to kick off and provide a bit of context for the audience. You could introduce yourself and tell us about Galileo.
Clay Wilkes:
Absolutely. Galileo Financial Technologies was founded in Salt Lake City, 19 years ago. We are an API-based platform and provider of payment services. We provide our services out to payments companies, fintech companies, that are providing the types of services that are so much in demand right now. The COVID environment has absolutely done exactly what you said, which is pushed everybody into this, where you don't want to be touching point of sale and touching cash and contacting the various clerks or merchants with the payment device. So all of a sudden digital is very much in vogue, but we've been doing it for a number of years and power not only digital banks, but digital form factors as well.
Clay Wilkes:
It's just been interesting to watch the surge in demand. We had an incredible first quarter and it looks to be the second quarter is going to be every bit as strong. I've got more to say on that, I'll save a little bit of it for your questions down the line. But Galileo's doing very, very well going through very high growth right now, and I'm really pleased with where we are.
Will Beeson:
Well, look, there's so much to discuss. This is such a timely conversation, but maybe the best place to start has to be this pie chart graphic that's been going around a little bit. I'm not great at remembering specific sources for specific infographics, but I think this came out of some sort of digital banking report around app usage and downloads and by proxy market share.
Will Beeson:
It was showing the biggest digital banks in the US by market share, Chime, Current, Varo, MoneyLion, and a number of others. I think you shared it basically saying we're happy to be behind 95% of the market share in this graphic, which is phenomenal. Can you talk a little bit, I mean, that has to be the starting point. Can you talk about some of your highest profile customers? Can you talk about the market as it currently exists and Galileo's role in it?
Clay Wilkes:
Well, first of all, I am familiar with that graphic and when I saw it, it was a little bit of an eye opener. I can't think of very many industries where a single player is dominating to the extent of 95%. It's an incredible number and it's not on small scale. As you noted earlier, these entities are not only receiving high valuation, they're doing it, deservedly, they've scaled their own operations. So it's showing Galileo is currently powering in North America greater than 95% of all digital banking, which is an astounding number.
Clay Wilkes:
But what's interesting and even more interesting than 95% is that as I look at where we are, we've had a number of clients that have been doing this for a little while and they certainly are represented in that graphic, but what we've signed up many, many, many of the leading fintechs. So TransferWise, you mentioned Chime, Aspiration, Greenlight, Robinhood, Monzo, Current, ScaleFactor, SoFi, Varo, Revolut Remitly, KOHO, Shipped, Paysafe and the list goes on and on. So as I look out two years, three years, four years down the line as these operations began to hit scale and they will because they've solved for interesting and important problems and they're getting market acceptance. Galileo's business will continue to scale. So that's exciting.
Clay Wilkes:
To your earlier question on what about the time right now? What I would say about it is it's not limited to fintechs. Just within the last four to six weeks, we have had three of the top 20 global banks reach out to us inbound and essentially say, will you help us solve our digital banking problem? There's been a few of these experiments that have been launched and have not fared well in the marketplace, I won't name them. But I think what the banks have realized is that, look, if we're going to do this, we can't do it on the tech that we have, the tech stack that we have, we have to do it in a way that this other sort of more innovative, more nimble companies are able to do it.
Clay Wilkes:
Galileo provides the infrastructure to be able to do that. It's not just the APIs, but we provide all of the middle office and back office support so that we can launch a company and we can either outsource or partner and work with that company to get these products quickly to scale. So we're seeing massive opportunities, absolutely has not slowed down at all. It's, if anything, it's grown very dramatically during this shelter in place and COVID experience.
Will Beeson:
Yeah. So you talked about digital banks there, you named then a number of companies in terms of the newer it sounds like customers that weren't maybe looking to offer the kind of full suite of consumer finance products. Then you talked about incumbent banks reaching out. Clearly Galileo has a sweet spot in that digital banking space, but it sounds like there's some interest and perhaps some existing clients who are more in using card processing, using payments, using other functionality, for reasons that aren't user please use me as a primary checking account. Are there brands who are using Galileo in interesting ways? Are there other clients who are using Galileo in interesting ways other than the checking debit plus, plus, plus type offering?
Clay Wilkes:
Yeah, that's a good question and the answer is absolutely. The platform is flexible enough to be able to accommodate really anything that you want to put your imagination to. And we do that today. We do that, for example, with companies that are in the B to B space, where you're making a payment down the payment rails to some other commercial entities, so commercial applications. We see it in teen and parent type configurations. We see it in things like gig economy, engagement type applications. We've had a number of those. We've got a lot of instant payments that we do today that are essentially one time payments and I'll talk more about that later when that comes up. We've got a major initiative in that space.
Clay Wilkes:
So there's a variety of these things. Wealth management and cash management. We've had an enormous surge of interest in asset management and wealth management companies wanting to be able to offer banking like products out to their customer. Galileo is able to quickly easily offer those types of capabilities because we've been doing it. It's essentially what we do, integrate with their core.
Clay Wilkes:
I'll give you a small example. If a very large bank were to come to us and say, Hey, we want to launch a product. That's going to have five million, 10, 15 million customers. We could do that in consume four to six account entries on their core banking and the entire thing would run with full compliance capabilities, really solve every regulatory concern, all of this operating at scale. There's just a lot of capability that we've built that allows us to be able to do that.
Will Beeson:
That's probably an interesting point to dig into a little deeper and maybe pull in some of the history. So please correct me if I'm wrong but my understanding is that Galileo was more of a strictly speaking, a payments processor earlier on. And then in recent years, you've extended the platform expanded the offering to support other types of products and services. I think that a lot of the Galileo, maybe heritage, especially if we refer to that pie chart, some of the players that have significant market share there. I think indeed a number of others who maybe weren't on that chart or Galileo customers via a Bancorp and Galileo arrangement.
Will Beeson:
Perhaps you you've traditionally had a close relationship with Bancorp who kind of is the grandfather of sponsor banking. Can you talk a little bit about where Galileo has come from, how you've built your niche and then how you've extended into further offerings over time?
Clay Wilkes:
It's interesting to look at a history of the payments networks associations. So both Visa and MasterCard try to define traditional credit. A further extension beyond that was what we know of as traditional debit. And then beyond that, it was sort of like anything else. They didn't know where to put that anything else category. Both of them in the early days called that something else, it was prepaid. And the interesting thing about that is that no one particular business model that we were providing services for fit the mold or the model.
Clay Wilkes:
In other words, with traditional credit, this was a walk in customer or later on a mono-line customer that was being issued a card by a bank. A debit card was essentially a walk-in customer that was receiving a debit card, allowing them to access their DDA. These other things were non-banks. Then they were all over the place. So you might have a product that received a state or federal payment, but it could have just as easily been a gift card. It might've been a payroll card. It could have been a tax remittance card and it could have been any one of a number of a hundred different things. So it was in that environment that Galileo was trying to solve those problems. We knew that the platform needed to be created differently from an architectural perspective and deliver those services differently when it came to the integrations. Because not only did we need to know something about payments, we needed to know something about the business logic that was on the other side and it was a very diverse set of applications that we were solving for.
Clay Wilkes:
So that's the heritage under which Galileo came about and it's one of the reasons why we're able to adapt so easily into these different environments.
Will Beeson:
How much of an accelerator has the Bancorp relationship been over time? And do you expect that to continue to be?
Clay Wilkes:
Bancorp has been an important partner for us, but they're by no means the only partner. They're one for us today of about 20 different banking relationships that we integrate with and partner with. In North America we've got about eight to 10 of the card manufacturers and personalization entities that we're integrated with. Most of the payment networks and applications that you're essentially integrating with in terms of riding the various rails or moving money about we're integrated with nearly all of those capabilities.
Clay Wilkes:
So the bank partner is just one of the factors. Bancorp has certainly been a longstanding partner and an important partner for us, but by no means the only.
Will Beeson:
It sounds like what you were describing, what you could do for an incumbent bank was something akin to an FBO structure that suggests that your technology platform can not just interconnect with various payment networks and do the payment processing, but perhaps run the ledgering and accounting and effectively serve as a core banking type system as well.
Clay Wilkes:
Well, you're really hit on that what is at the core of our system. Our system is an account based platform or capability and that account for us is structured differently than it is on nearly every other payments platform that I'm familiar with. For us, it's a control structure and off of that, hang these other important dimensions of the services that we deliver. So it allows us to achieve things such as the one you were just mentioning where we can be either the primary or sub-ledger in any one of a number of different environments or applications.
Clay Wilkes:
I mentioned cash management as an example, but it's just as easy in digital banking and potentially just as easy in say, stock trading or securities trading as it is in delivering a payroll card. So the capabilities in the platform at its very core, there's two fundamental things. One is the hierarchical nature of the configuration. And without going into that too deeply, it allows us to organize information. So think of the file system on your computer, it allows that type of configuration. Then the other key construct is this account. Again it's not an account like oh Will Beeson, he's lives at this address, et cetera. It's not that it's this control structure that's really core and fundamental to what we do.
Will Beeson:
So because of the richness of that structure, it sounds like the sponsor bank who's sitting behind a Chime or until further notice Varo and Current and Monzo in the US, N26 in the US. In the event that that fintech is working with Galileo, the sponsor bank is effectively providing a banking license, Capitol, FDAC coverage, more of the regulatory approvals and less of the technology and functionality, which comes from Galileo. That kind of then suggests that if you strip out the sponsor bank, what you effectively have is like a digital wallet stack. The digital wallet I think is a fascinating space that we're starting to see emerging a bit more. Square Cash has, I guess it's called the Cash App. Square's Cash App has attracted millions and millions of users in recent times.
Will Beeson:
I think the stimulus checks from the US government, we're an accelerator for further customer acquisition in all effects, nearly it's similar to a digital bank account. I'd be curious to the extent that you're working with anyone who's approaching this from more of a wallet structure, as opposed to a full sponsor bank structure, what your views are on the digital wallet space. As we look forward versus the kind of full stack digital bank.
Clay Wilkes:
I think you're going to see a number of players win in that space, and I think they're going to be important. So you mentioned Square, I think for sure they've got an opportunity. PayPal absolutely has an opportunity there and as do Samsung, Google, Apple some of the larger tech players. We will see for sure, we will see large scale adoption of those types of technologies and Galileo is able to power all of them.
Will Beeson:
I think the other topic of great relevance right now is the very recently announced SoFi acquisition of Galileo. Congratulations.
Clay Wilkes:
Thank you. It's exciting. I actually, couldn't be more excited about not only where we are, but what it means for the future of the industry. I'd be happy to share the right moment, the rationale for why we did it.
Will Beeson:
Absolutely. I'm very, very curious.
Clay Wilkes:
You know, Galileo has had as you mentioned at the outset a 95% market share in banking and payments, very strong in debit and card based applications and alike. We will continue to see market share expand, and we believe in and think that Galileo's presence in that market is as critical.
Clay Wilkes:
SoFi on the other hand has been an incredible company in the lending space and they've raised an incredible amount of money and they've built a business around personal loans, student loan refinance, mortgages. They're getting into credit card right now and they've got adjacent businesses in investment, and they're SoFi money product. But the core of their business is this lending space.
Clay Wilkes:
So the rationale was what if we could take what you're currently, you SoFi, you're currently delivering in a consumer experience to your member base. What if we could take that and wrap our enterprise grade APIs around it and deliver it out to Galileo's distribution? What would happen?
Clay Wilkes:
Well, what would happen is you would immediately offer products that every single one of their clients that I mentioned earlier in the program have on their roadmap, have an absolute demand, are trying to find urgent ways to get to those products, are wanting to take baby steps that's going to require them to really build out this capability over years. We could potentially offer these products at scale in ways that would probably give Galileo a three year, maybe five year head start on anybody else that would be on the scene.
Clay Wilkes:
So the rationale was, could we define a juggernaut of payments by bringing these two companies together and delivering them and delivering these products, banking and payments on the one hand and credit products on the other hand. In creative product constructs, that all of these companies are really wanting.
Will Beeson:
What types of products does it include that Galileo doesn't currently support?
Clay Wilkes:
We would do personal loans. We could do student loan refinance. We could do home loans. We could do a credit card, I should make a footnote on credit card. We provide today, we already provide a number of credit related products on our platform, but we are launching true consumer revolving credit and having the ability to be able to deliver that in a white label type of environment today has been difficult. The sponsor bank relationship is difficult. Finding the right platform is difficult if it is not legacy based. Being able to do that in an API environment is hard. So being able to bring that together with what I mentioned in terms of what is really at the core of SoFi, this digital securitization pipeline, that the opportunity is massive beyond belief.
Will Beeson:
We talked to Ryan King from Chime, one of the co-founders on the podcast probably last year, about a year ago. I remember he was telling us that a consumer credit was on their roadmap eventually. So the big question here is just Chime view the SoFi ownership as so competitive that it doesn't want to work with Galileo anymore? Or does it view the opportunity to leverage that new functionality to deliver consumer credit as being so beneficial that it's a turbo charger for that relationship?
Clay Wilkes:
Yeah. Ryan King, first of all, is amazing. He's fantastic, and longterm partner. We've been out now and talk to every client that we have, and the combination of SoFi and Galileo has been met very enthusiastically. They are just, as you say or suggest, they are very excited about the possibility of being able to deliver credit products that would come from this combination. So it's not just banking and payments, but a number of very exciting lending products, all of these clients of ours today have these lending products in their roadmap. So that's one of the reasons why I think it's been met so enthusiastic.
Clay Wilkes:
The other thing that I would say about it is what's core to the function that we provide to every client that we have is privacy and security. But that privacy, whether you're talking about customer data, or you're talking about strategies and product roadmaps and the like are key. We do it today already. So we provide services for Robinhood as well as we do for Chime. And we're not at liberty to talk about what Robinhood's roadmap is when we're talking to any other client. So this is a key function of what we do, and that will carry forward to our relationship with SoFi.
Clay Wilkes:
Galileo is a standalone business, and we'll continue to build a standalone brand. The model that we're really aiming for here, it's been proven in the marketplace. So you've got this incredible consumer brand, Amazon, and there's a tremendous infrastructure company, AWS or Galileo in this case and it's providing services to Netflix who is Amazon's biggest competitor. And that model works perfectly. So we see this working in the marketplace today at scale and we think that it works here and we think it works because we're actually providing a significant advantage to our clients in delivering product sets that are not going to be available in the marketplace for some number of years.
Will Beeson:
You talked about roadmaps a few times in there. I guess the question that's coming to mind for me is specific to SoFi. I'm sure you'll tell me you don't have visibility or you're not at liberty to discuss, but I think SoFi maybe applied for a banking license or was thinking about applying for a banking license and didn't. It seems to me like if they pursued that again, if they got a banking license, then basically SoFi as sponsor bank plus Galileo would suddenly offer a phenomenal banking as a service, full stack, fully regulated banking as a service offering, and not just a replacement or competitor for others, but perhaps the most modern, the most purpose designed, purpose built in the market right now. That sounds like it would potentially be a huge opportunity. Any insight into that from where you sit?
Clay Wilkes:
Well, I think what you're speculating on is very, very interesting and compelling, but I don't have anything that I can share directly and I don't disagree with what you're saying. I think it's an exciting future. That's what I can say.
Will Beeson:
Well, maybe we'll see if we can get SoFi on the podcast at some point and ask them the question.
Clay Wilkes:
Anthony would love to come on. I'm sure.
Will Beeson:
Are there any products that you're working on now, as you look at how to continue to adapt to this rapidly evolving space?
Clay Wilkes:
You know, there's a few things that I'm excited about. One of the most immediate is our expansion into Latin America and we see that as a tremendous opportunity equally in that of North America, both in terms of it's the number of consumers, the types of payments, the adoption, the digital form factor, all of that is just almost a leapfrogging of what we've seen in North America.
Clay Wilkes:
One of the products that I'm really excited about, and we announced it late last year, and we're just now bringing it to market is a product that we're calling Galileo Instant. It will serve a slightly different segment of the market than what we've traditionally done with fintechs.
Clay Wilkes:
So this is the way that that Galileo Instant works. It's eliminating all of the headache and we demonstrated this in a closed setting of executives. Where we took what typically takes anywhere from three to nine months, maybe longer, maybe a year to get a full product out to the marketplace. And we collapse that down to 23 minutes. It was the onboarding, it was the funding, it was the KYC, it was the KYB, it was everything that you would typically do, but all of the pipes were already built.
Clay Wilkes:
Galileo Instant allows companies that simply want to make a payment, but don't necessarily want to be a payment company to do it and do it very quickly. So these are marketplace, gig economy, e-commerce type businesses. I have a neighbor that runs a very large steel company and he has 10,000 welders. He came to me several months ago and said, do you have a product that would allow me to pay my welders by the weld every day?
Clay Wilkes:
I said, well, if you'll give me just a few months, the answer to that question is yes, we do have such a product and that's Galilee Instant. So in that setting, his welders could come, they could do the number of welds they do in a day, the supervisor could check it off and the payment happens immediately. But those opportunities are all around us. And it doesn't matter whether it's a Google wanting to pay a YouTube influencer and there's 23 million of those, and they need to pay them regularly for all of the ads that are running in their various videos. All the way down to the welding application or the individuals that are delivering packages in New York for law firms.
Clay Wilkes:
So we believe that these things, the opportunities are all around us and Galileo Instant will serve a very important purpose and exciting purpose going forward. So that's one of the things that I'm most excited about right now is delivering that product. We've had 450 companies on the backlog and we've just now this week began releasing those out into the market.
Will Beeson:
Oh my gosh. I feel like I need a couple of days now to just digest that and think about what the implications and use cases are. Then we should have like a whole nother podcast to talk about it. Wow.
Clay Wilkes:
If you'll have me back, I will happily come back and talk about Galileo Instant. I will have a little bit more rote experience when we come back and do it, but I can tell you the opportunities here are vast, and it's going to [crosstalk 00:30:14]-
Will Beeson:
That sounds like a fun brainstorming session.
Clay Wilkes:
It's going to transform payments a lot.
Will Beeson:
Impressed and taken aback as I am by the Galileo Instant offering, which sounds extremely powerful. I don't want to not pick up the first point, which you mentioned, which was the expansion into Mexico and Latin America. How different is that market from a pure infrastructure connectivity perspective, how much work is involved in launching there? Is it akin to building Galileo two in a completely different environment, or is it easy enough to extend the geographic functionality without recreating everything?
Clay Wilkes:
Fortunately, the platform is from the configurations I was talking about earlier at the core of the account and the hierarchical organization, what's at the core of what we do, the platform is adaptable enough that we can go into a geographic region such as Mexico. The things that you begin to think about are certainly currency, but we operate in all the world currency is today. Being able to silo those, being able to integrate with whatever the local regulation or banking requirements are by the central bank and others. Then being able to integrate into the payments network and they may vary.
Clay Wilkes:
Then you've got integration to the local potentially central bank or other funds flow and ATM type networks, so those are requirements. As we move into Latin America, each of these countries. So whether it's Mexico, Columbia, Argentina, Uruguay, or Brazil, or other, they'll all have their own local version of that.
Clay Wilkes:
Then you've got language that sits on top of that and various, for example, address formatting. As we move into a specific, you've got multi bite character set Unicode types of things to think about as well in terms of characters. There is work to do, but 90% of what we do at the core moves over. So while we have to do a integration and a certification in the local market, a large part of what we do, and certainly as we are interfacing with our clients through our APIs, that is all working as you would expect. So the answer is it's largely moveable from region to region, but there are some local things to think about.
Will Beeson:
Wow, well, I think that when, SoFi starts offering balance sheet to New Bank via Galileo my head is going to explode.
Clay Wilkes:
Will see how far away from that we actually are, but of that top 20 opportunities in the Latin American region we're talking to all 20 and we've only been there a month and we've signed five of them. So we think the future is extremely bright in Latin America.
Will Beeson:
Well, I think there's, again a third episode right there around the fintech landscape in Mexico and Latin America and I actually have a few people in mind who could step in and we could have a multi-party conversation that could be really good.
Clay Wilkes:
I would love to. Love to.
Will Beeson:
Before I let you go. I have one question, which is switching gears a little bit, but I just feel like you maybe well-placed to tell me a bit about your thinking. So the realtime payments system in the US that's kind of been talked about for years and which is now, maybe it was moving forward and maybe now it's going to take longer and question marks about entrenched interests and kind of what's going to happen and who owns it, who it's going to work to the benefit of. What are your thoughts about that realtime payments network?
Clay Wilkes:
It's an area of the payments network that absolutely needs to be modernized a hundred percent. I'm a huge fan. I don't know the timing. I hear all the reports and see all the reports. In fact, we're quite close to it. But I don't know when it actually comes onto the scene as a fully commercialized opportunity. Then what does it change and what does it do? I think it's going to be an evolution to get there. I don't see it on 2021 or 2022 or 2026 it's going to change anything. I don't see it happening quite like that.
Will Beeson:
That's too bad, but hey, we'll get there eventually. I'm sure. Clay, congratulations again on the SoFi acquisition. Thank you sincerely for coming on the podcast, Galileo is far and away one of the most impactful fintechs and your vision when you were setting out nearly two decades ago was phenomenal. The world has unfolded in a way that kind of confirmed, I imagine, a lot of your early thinking. Amazing work, amazing work, and look forward to watching you continue to excel and support this industry moving forward.
Clay Wilkes:
Will, thank you. Thanks for having me on the podcast. Really appreciate it. Great chatting with you.
Will Beeson:
Clay Wilkes. Thank you very much for joining us today.
Clay Wilkes:
Thank you.