fintech
Special Episode: Insider Advice for Fintech Founders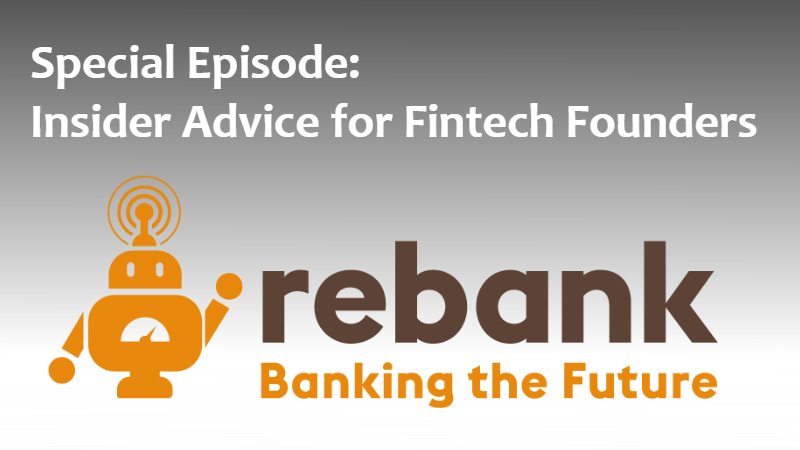 ---
Welcome back after a week off last week - our first in a year. Wow. Hope everyone's having some fun this summer.
We've got some amazing guests lined up over the next few months, so stay tuned for that. We're increasingly active in our newsletter lately - if you'd like to be a part of that, you can subscribe on our website at www.rebank.cc.
Today, we've got one for the entrepreneurs. We've had some great episodes with venture capitalists and founders going through the most interesting opportunities their seeing, ideas about areas of fintech ripe for further innovation, startup advice and more.
We're pulling all of that together in one place in a nod to our founder and aspiring founder listeners, of which there are many. A lot of the questions that come up most often in our community are around turning concepts into action. One of our core tenants at Rebank is that its delivery that matters. The discussion and analysis of high level ideas and trends are part of the work that takes place around and in support of execution, but with no action, the reflection is only so relevant.
Today, we hear from a number of past guests, including Michael Kent of Azimo, Steve Lemon of CurrencyCloud, Nigel Verdon of Railsbank, Alex Macpherson of Octopus Ventures, Carolina Brochado of Atomico, Michael Treskow of Eight Roads, Ameya Upadhyay of Omidyar, Charlie Delingpole of ComplyAdvantage and Aman Ghei of Finch Capital.
As always, connect with us on Twitter, Facebook, LinkedIn or on our website at rebank.cc.
If you like today's show, please subscribe on iTunes, or your podcast platform of choice, and leave us a review.
Please enjoy today's special episode on starting a fintech.