AI
Understanding Consumer Fintech in China with Linda Jiang and Yi Luo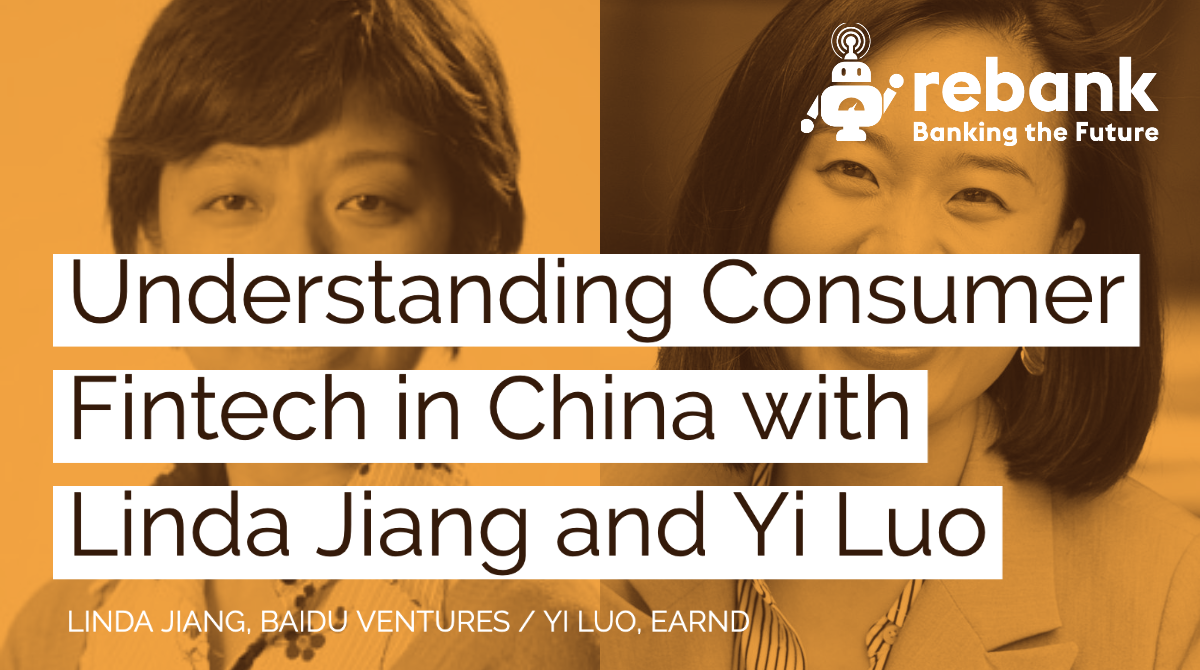 ---
Consumer behavior in China has captivated the West for years, and behavior around fintech and payments is no different. Ant Group's planned $200 billion upcoming IPO raises more questions than it answers in the minds of many in the West, who like me don't have direct experience with super apps and ubiquitous QR code based payments.
We record a breakdown of Ant Group's upcoming IPO last week with Max Friedrich and Lex Sokolin, which is under compliance review and will be released soon.
Today's conversation brings unique perspective to the exploration of fintech in China, told through the eyes and anecdotes of two Chinese tech entrepreneurs.
Linda Jiang is a deep tech founder and serial entrepreneur. In 2010, she co-founded Umeng, a mobile analytics and developer platform that grew to support 180,000 apps and become the largest platform of its kind in China before selling to Alibaba in 2015. She is now an advisor to Baidu Ventures, an early stage deep tech focused fund backed by Baidu, one of China's tech giants.
Yi Luo is the founding Chief Strategy Officer of FreeUp, a company unlocking daily salary payment for workers. In 2019, FreeUp was acquired by Greensill, and then rebranded as Earnd, where Yi now leads strategy and expansion. Yi is also a keen angel investor.
This conversation was recorded in February 2020, pre-COVID and before I relocated to New York, which may explain some of our references.
To subscribe to the Rebank newsletter, including insights, essays and written transcripts of all new episodes, please visit www.rebank.cc.
Thank you very much for joining us today. Please welcome, Linda Jiang and Yi Luo.
Full transcript:
Will Beeson:
Yi and Linda, welcome to Rebank.
Yi Luo:
Thank you.
Linda Jiang:
Hello everyone.
Will Beeson:
This is very exciting. I've been looking forward to this conversation for a while. We've talked a lot about fintech and tech generally, all over the world. US, UK, Europe, Australia, South America, but we haven't really gone deep in China at any point. And what better opportunity than this one to do that. So you guys have fascinating backstories and bring amazing perspective on how innovation in technology and fintech works in the UK and also in China, where you're both from. So maybe we could start with quick introductions. Yi, do you want to go first?
Yi Luo:
Yeah. Sure, absolutely. Hi, I'm Yi, I'm the head of strategy in Greensill. Previously I used to be a founding member and chief strategy officer of a startup called FreeUp. We changed how people get paid. We allowed people to have access to their salary as soon as they earned. Last year in October, we were acquired by Greensill. I'm not going to talk on Greensill because I know there was a previous episode that Will you have done with Sean Hanafin, our chairman. So for anyone interested, please check that out. And yeah, I was born in China, I was born in Beijing. I grew up in Beijing. And heart and soul, I'm a Chinese, but I've spent the past 12 years in UK, even though I've been back and forth a lot. So I think I always look on things sometimes in a Western lens, in a way that, every time I go back to China especially, for work reasons in the startup world, sometimes I just have a lot of culture shock, reverse culture shock.
Will Beeson:
Well, I look forward to exploring that. I think that'll be a fun topic to pick up. Linda.
Linda Jiang:
Hi, I'm Linda. I started my career in the mobile industry. So I used to do a lot consultancy work for all the tech operators in the UK. And just after the iPhone came out, and I joined Samsung to actually work on the Samsung apps and the services, kind of very early stage, to bring traditional internet services on the mobile. And then, I decided to move back to China. I'm originally from China. And then, I kind of did a mobile big data company, Umeng, and we basically provide mobile analytics and advertising solutions for the mobile ecosystem.
Linda Jiang:
At the end, we sold the company to Alibaba. So my background was in the data and AI, all this kind of space. And I think fintechs actually have really leveraged the power of data, and they really use data to create very exciting services for the consumer side or the backend, like B2B kind of stuff, I mean. Right now I'm starting a new kind of entrepreneur journey.
Will Beeson:
All right. So maybe the first question to kind of get us into this is for you Linda. And I genuinely have no idea how you're likely to answer this. So you started one company in China, and you were doing mobile data and advertising, it sounds like. And then you very recently started another company here in the UK doing robotic decision making in construction. Could you have started the mobile data and advertising company in the UK, or is there anything specific about one ecosystem or the other?
Linda Jiang:
I think it's about timing and the time, I mean, for Umeng which was the big data analytics company that we started, that was 2010. At that time, China was just starting this smartphone evolution. So we were kind of really, really, really early startups working on mobile platform and then provided the toolset to the ecosystem. I think it's the timing, at that time, China's really just starting. I mean, even at that time in 2010 back to the UK, lots of people already had an iPhone and Android, right? But in China I was just mobile internet beginning at that time. I think that timing is really important. So we're really lucky. In China a lot startup actually, mostly become B2C because it's easier, it's less constrained, that they can move really fast.
Will Beeson:
Interesting. Interesting. What do you guys think it is about China that makes the B2C business model easier or preferable to B2B?
Linda Jiang:
I think not really easy. It's hard. It's very, very hard. B2C is really, really hard, but I think the market size is there. So because the market size's there, it's very easy to test something. I actually talk to a lot of B2C, particularly fintech startups in the UK. The customer base is very small. So you're probably targeting like 20,000 customers for your beta test, but in China, that's probably just a day.
Yi Luo:
Yeah.
Linda Jiang:
So you can really, really move in the iteration really fast, if you do it the right way. So I think that, and also I think, it's a huge population, but everyone just speaks one language, kind of one culture. So if your product arrived in Beijing, Shanghai it's easy to get successful in other territories as well. But like in UK, naturally I want to go to Europe, but different language, different culture. Even in the US actually, a little bit different culture as well. So I think to grow your customer base, it's a little bit harder for that.
Will Beeson:
We were talking, Yi, before we started recording, about early stage B2C businesses and the flexibility that they often have. Do you want to pick up on that point at all?
Yi Luo:
Yes. I think that there is a misconception that always, the Chinese government is in control of the data and there's a lot of regulation consideration, yes there are. I mean, if you are a bank, if you are becoming a challenger bank yourself, there's just tons of consideration there. But to be honest, in the early stage of any kind of startup, I see a lot of freedom to be honest, about in that region. For you to make X per month, for you to try and error.
Yi Luo:
And until you get something terribly wrong or until you're becoming the Alibaba which is too big to fail, then you'll start to get the regulation that looks on you seriously. But before that, I don't know if it's the pros and cons. The P2P business in China it's just completely killed overnight because the regulations suddenly realize there's a problem. But if there had been a sandbox scheme, if that is being monitored in the beginning, probably the industry won't vanish overnight. So, yeah. That's my view.
Will Beeson:
You mentioned as we kind of started that you get culture shock sometimes, when you go back to China from the UK. What drives that culture shock specifically in the kind of tech, fintech context?
Yi Luo:
I mean, I think just as a human being, I have culture shock all the time. I just give you example of an anecdote. I went back to Beijing last year to see the family, and when I get out of the taxi, because I haven't switched my SIM card yet, and I don't want to connect the internet with the expensive one, my provider's Three. So I have some Chinese cash with me, and when I get into the taxi, you see Linda start to laugh. When I get out of the taxi, I was like, oh, I arrive, it's 150. I was trying to give this guy 200 cash and he's like, "Oh, come on. I haven't seen cash, probably for a whole month. I don't want cash. Can you pay by WeChat or Alipay or whatever."
Yi Luo:
And I was like, "I'm sorry," but he's like, "I have no change." So I ended up giving him the 50 Chinese currency as tip. And it's so interesting on my way coming back here in Paddington, I pick up a taxi. I remember very clearly that the glass, the panel between me and driver, there's a sticker saying, even though this taxi accepts credit card, I prefer cash, in a black cab.
Will Beeson:
Right. When you go back to the UK?
Yi Luo:
Yeah, when I got back to the UK. And that really begged a question for me. I was like, why? So I started to Google and search for costs involved in this transaction. And I realized that in the UK, there are different options of terminals you can set up, there's the cost say from 3% to 6%, you need to pay as a taxi driver. While in China, that is 10 basis points that you pay. So-
Will Beeson:
Through WeChat or Alipay?
Yi Luo:
Through WeChat, yeah. Through Alipay. So you'll see the difference of this is almost like a cashless society is quite real in China, that in the 7-Eleven just very close to my home, you can use a facial recognition to pay. You don't even need to bring your mobile phone. You just go there, scan your face and type in your ID account. And once it's matched, you're just paid. So, that circumstance, you can literally go out with your towel around your waist and to get yourself a drink.
Will Beeson:
Wow.
Yi Luo:
I look at this through quite a Western lens. And when I told that to my Chinese friends, they were like, "Oh my God." It feels like I'm from a rural area, but when I talk to my British friends, they were like, "Oh my God, that sounds so cool. Interesting."
Will Beeson:
One of the explanations that you hear for the reason that this big shift kind of toward mobile payments specifically happened so quickly in China, whereas here, I think New York even recently passed a law saying all establishments, business establishments, had to accept cash. It's like put an end to the cashless restaurants. I think the concern was about excluding certain demographics from the economy. The explanation here is, this concept of a leap, from a complete lack of infrastructure, like electronic payments infrastructure, suddenly to the mobile world where mobile payments can happen. Is that true in your experience?
Linda Jiang:
I think it is. I think this is like, I mean that's something we've been discussing all the time, we can think about two ways that I think about this kind of thing. In China, surely nobody uses cash anymore. And a friend of mine living in the US, she came back to China in a shop and the counter people are asking her, "How do she like to pay?" And she said, "I pay credit card." And nobody knows how to use credit card machine basically. And they were shocked, they say, why do you want to use a credit card, can't you just get WeChat Pay? Even just no cash, even credit card, people don't use anymore. Nobody uses that anymore in a regular basis.
Linda Jiang:
So, I think there's two direction going here. One is really because the payment provider really pushed Alipay and WeChat Pay. They spent lots of money and effort to make the payment as easy as for consumer. They also make the merchandiser, basically it's a very low fee for the merchandiser. Also, it's very fast to get your payment back, the cash back to the merchandiser. Credit card you're probably taking 30 days to get your money. Some provider will probably get it in seven days, but for Alipay and a WeChat Pay it's N plus one. So basically the things I sell today, next day the cash go back to my merchant's bank account.
Linda Jiang:
So it's like they really lowered the barrier for merchants to take that, for consumers side there were like massive campaigns initially. And they're not really looking for, I mean, traditional people are thinking there's kind of a new technology, old and younger generation will take it, right? That's everything here. We're only targeting the millennials, but WeChat Pay and Alipay they're not limiting their customer to younger generation. They target to whole population. Some campaign they run, just to encourage old people to use their mobile pay to do that. Also they really try to divert people who use mobile pay, even they purchase online. Alipay basically initially did that, you buy on Taobao which is like Amazon, where Amazon or PayPal kind of thing. You can still order on the website, but go to payment page, they will say, use your Alipay, use your Taobao app to make a payment, you get a 10% discount, something like that.
Linda Jiang:
So they really kind of transfer their customer to use the mobile payment, easier way, part of their day to day life kind of thing. So I think they'd really shift that concept. Also there's a social norm, I think is also very interesting. In here I think people still worry about something. Is this too new? But in China, is really the social norm is more like, if everybody use it, I would like to use that. So it's very interesting. I initially had even told my parents if they try this and they never do it. And one day my dad basically come back and say, "Okay, set up this to me." Just because in the supermarket everybody look at him like, oh, you don't have WeChat. And he feel very kind of odd. So I think that also create different society, different kind of thing.
Yi Luo:
I think from my perspective fundamentally, there's a stage of development, isn't it? So 10 years ago, because Chinese banks, the level of development is so bad. It's not like in UK, in US, you have a relatively mature banking infrastructure. Even though people nowadays, not necessarily like even common banks, but look at 10, 20 years ago, they were pretty good in terms of if you're looking at the whole world. But because of China, so lack of a good payment way, they don't have good credit cards, the credit card adoption is incredibly small in China. And so once that technology company get in, they really got a chance to leapfrog on the mobile payment. And I think another interesting thing you talk about the financial inclusion when they said, well, this had to include cash. I think in China, you'll see it opposite, that why there are a billion WeChat Pay user.
Yi Luo:
It's because a lot of people, they don't have a bank account, that they use this as a wallet and it works perfectly as their bank account. They can get their friends who has a bank account to transfer money in their wallet, and they just use it as a bank account. They don't really care if they have it in the future or not. So I see that Amazon has started some initiative in America, who enable a wallet that served on their bank to people, and I think that's great. And I see there's more challenger bank initiative in UK, to particularly serve people who don't have a bank account. But I think in China, that position was quite unique. And you could only happen in that kind of slight macro environment in that stage, and it's basically timing. And also if that's ready for the market, yeah.
Will Beeson:
Do you have any sense of what government or monetary policy decision makers make of a world in which transactions happen outside of banks, and you get your friend to withdraw some money and then transfer it into your account. And it doesn't really kind of come back into what at least in the UK or the US would be like the system that's regulated by the Bank of England or the Federal Reserve.
Linda Jiang:
I think there's some regulation even for the Alipay, WeChat Pay, this kind of thing, because everything's still locked, right? It's not like a blockchain payment, actually anonymous. So even on WeChat, we pay each other, that's still locked and that's how we verify the ID has been verified to enable that kind of transaction. So they still have the record. And I also found just from a regulation perspective, I think for the mobile payment company, government has license. So only a number of a company could offer that mobile payment services. Yeah. It's quite strict the license.
Yi Luo:
Yeah. I was called to ask a very interesting question the other day by my colleagues saying that, how do you do KYC in China? It's experience sound so seamless, it's like how do you gather KYC? And correct me if I'm wrong, but I always heard that it was because all the Chinese mobile phone, are registered under a real name, under your ID. So once you put your mobile phone to that, KYC has already been done, because it's all based on the real name and the real person. And also like Linda said, there's a regulation protocol into mobile payments. And I also think this is an interlocking system. Alipay is a big interlocking system and WeChat Pay is a big interlocking system, I think from a regulatory perspective.
Yi Luo:
If those two, they are compliant, to be honest the complexity of managing data or the money flow is relatively easy. I know it's always kept as well. A lot of them are for the farmers, for the construction workers, they send small amounts on a daily basis, without a bank it's difficult. Nowadays they can do it through mobile payment.
Linda Jiang:
Just on top of that KYC thing, because actually it's very strict the KYC. So because everyone has to put their ID number whenever they open a bank, even just a normal bank or online banking or I mean, online payment service. And the investment part if you want to buy, they have to go through it, as you have to have your basic ID card, the photocopy, very similar to here. And the most often like Alipay, they will ask your facials, they basically open your phone and have a look at your face. And then they make sure it's not a picture. They want you to actually move your eye a little bit. And that kind stuff to make sure they capture your facial information. Yeah.
Yi Luo:
So if something goes wrong, then I can assure you that in China things can be caught pretty quickly. Yeah.
Will Beeson:
Maybe that's slightly related to the question that popped in my mind before. So you were talking about paying at 7-Eleven through a facial scan. How does it make you feel, Yi? Is it just totally normal, and it's all good or...?
Yi Luo:
Not it's not. I've been here too long. It's kind of a little bit scary for me in a way. I may have this love and hate relationship. While I was using it, I was like, oh, it's so easy. I feel quick. Oh my God, I don't need to get my wallet, get my mobile phone out, but when I get back and think about it, I got a little bit scared because I also think that is my job in this country, that I'm working with a fintech, we have very high standard of GDPR data protection. And you consistently think about that.
Yi Luo:
And when you put yourself on that seat, you feel like, Oh my God, how much data I'm giving to those providers to be able to use those services, it's quite scary. In the morning, what you buy, you go to see a cinema, and you buy a bottle of water in which location. And if they connect all the dots, they probably know better than your husband, where you have been to, and who have you seen and all these kind of information. So it's very scary. But I guess there's always a balance between efficiency and data protection.
Will Beeson:
Do you have thoughts on that Linda?
Linda Jiang:
Yeah. I think in a border context, that we all worry about our data security, right? Data privacy, even without official ID, we've being tracked in England, we'll be tracked so many times and our phone, sometimes I saw the ads Google pushed to me, it just really relate to something I actually bought in a corner shop at lunchtime. I don't know how that happened. I don't know how the data algorithm works, or it just coincidence, I don't know, but I think it's something, I think China is building the data privacy law, and they really cracked down a lot of things. A large company used to be alternative data company. And then now all have to be regulated. So I think every country starts to doing something. And I think I really agree with what Yi said.
Linda Jiang:
At the end is like the balance about efficiency and data protection, the trust. I use iPhone, I always actually give iPhone my Face ID when I pay on my phone. In some way, Apple knows everything about me, right. But then in some way I kind of trust Apple, which I use the services, but I guess it all depends on [whether] the provider who would be able to build that trust is also actually being regulated properly, and then to really provide a good service at the same time, this can protect our privacy. Yeah.
Will Beeson:
Switching gears a little bit. And I appreciate I'm about to ask kind of a big question, but so we've all spent time in the UK, spent years in the UK. And we have a sense of the relationship and the roles between government and maybe universities and businesses, private sector in innovation, designing the future, building, developing and deploying new things. And I think, most people maybe in the UK and US would kind of think of the private sector, pretty much driving all that, and the government at the very best kind of providing some regulation a little bit later to make sure that things work the way they're supposed to. And perhaps, designing the right systems so that the economies can work the way they're supposed to, and effectively the private sector can be effective.
Will Beeson:
And I think universities contribute largely as more or less autonomous organizations who often kind of internally focus, but nonetheless training very qualified workers to then participate in private sector, generally private sector later on. In your experience, would you describe the relationship between those three actors in China as being the same similar or different in any meaningful ways, when it comes specifically to innovation and driving technological change?
Linda Jiang:
I think technology, I think I agree with you. I think most actually private sector drive, particularly in China actually, Baidu, Ali, Tencent, they are the leading giant companies and then, there's also a lot like tech companies, that really drive the innovation. But I think the universities play a very important role as well. The talent, right? The great people, great students graduate, also the research have been done. But I think if we compare it to here, I think the universities here, they're doing much better in term of the commercialization and research in UK. I think, every university has that kind of unit to try to commercialize the research. In China I think a lot of universities just started working in that direction.
Linda Jiang:
So there's few successful cases, but I think there should be more researches could be potential used in the private sector. But I think right now the universities really provide really, really great people, particularly in the technology sector. And I think government, it's also very interesting. I think it depends on what kind of technology, right? Recently you probably know China is really open to blockchain technology now. The government actually drive a lot implementation on blockchain technology, particularly in their legal system, because they kind of try to implement some kind of blockchain for tracing contracts this kind of thing. So I think for some new technologies, our government actually do create a lot of use cases, which enable the technology company to actually provide some solution to actually be applied. So, I think it's very similar to the UK's kind of triangle. But the driving force I think, is still the private sector. Yeah.
Yi Luo:
It's a bit hard for me to compare them. It's almost like to compare an apple to a pear, from my perspective. There were definitely relationship in three of them, in this triangle relationship, but I see in a way, it's a different form, and for different reasons as well, because the players are very different. And I'd just pick up on Linda's case, you see some of the AI company that for example, SenseTime is incubated from the Hong Kong University, so that's one of the biggest unicorns in AI right now in the whole world. But yes, the stage of development is very different. And I think they now start to, in this a bit earlier stage I think, than what's happening here, to work together towards a lot of deep tech and healthcare particularly.
Yi Luo:
On the fintech you don't really see a lot happening. I know I'm quite fascinated by how much role, like for example Cambridge, it's been done over the past probably 20 years, incubating new ideas. So they have quite sophisticated investors to backup, the ideas come straight out of the university. And some of them already becoming a listed company, like the for IP Group. And I think it's just a really different stage of things. It's not who's better, who's worse, it's more about the different stage of development.
Will Beeson:
What other sources of culture shock do you encounter, when you go back to China?
Linda Jiang:
I would say, I don't need to use my laptop while I'm in China. I can do everything on mobile basically. I think that's first the cultural shock after I moved back, like two years ago.
Will Beeson:
Do you think that's also related to, what did we call it, like the leapfrog effect? Is it that people have mobile phones now and not necessarily desktops or laptops?
Linda Jiang:
Yes, yes. For sure. I mean, lots of people, they didn't have a laptop and they just went straight to the mobile right? From nothing to mobile. But also it's like everything designed is basically mobile focus now. So lots of companies actually asked me to say, we want to go to China, what should I do? I say, first thing, you don't need to worry about how to translate your website to Chinese, because nobody's going to look at your website. People wouldn't care about, do you have a WeChat account, you need to create all your content on the WeChat ecosystem on mobile. So you need to be with a WeChat app or mobile app, but your website, you could have one, but don't worry too much. You wouldn't get too much traffic on that. Yeah.
Will Beeson:
On that point there. So in terms of mobile behavior, is it app based, is it mini apps within super apps, like-
Linda Jiang:
There's lots of super apps. WeChat is the number one supper app, and inside WeChat ecosystem, everyone can create, it's called, like a mini app, like services. But WeChat also have more like a blog type of content channel, so everyone can create their own content channel. So there's a lot so people are actually doing very, very, interesting content there. So in a way, is it more like you create your mobile portal and they also can create your mobile by commerce, also create a mobile services or whatever you can all create inside WeChat, like a ecosystem. But there also other, entertainment sector, TikTok is definitely number one for the video side.
Linda Jiang:
If it's a eCommerce like a Taobao, which is Alibaba's company, they're really the largest, but also I mean, there's lots of kind of super app there. And for most people actually use their time on the super app, that make actually it harder for a startup actually to do B2C, unless they have to be really good and find that different niche area to do it. Yeah.
Yi Luo:
Just to go back to the cultue shock: among the one billion internet user, 75% only access internet through their mobile.
Will Beeson:
Meaning they don't access internet through anything else?
Yi Luo:
They wouldn't use the laptop for example, or a desktop for internet, they only use mobile for internet 75%.
Linda Jiang:
Yeah, just think on another point on top of that. I think another reason why people use that so much, also because in China they have very good infrastructure. So really everywhere, even the desert, you can get the 4G signal. So I have to say, it's very good infrastructure. But every time I get out at Old Street, I'm a little bit struggling because it would take me a little bit to find the spot which I can get signal to get a Google map working. I think that's also the challenge probably in here. So.
Yi Luo:
For me, it's just really interesting to see the difference. And I think my perspective is less about which model or which case is better than the other, the UK or China per se. I think it's more about the refresher narrative, about respect and understand the difference and also, be inspired. It might not work in UK. I mean like 95%, it won't work, but I think you'll see the different mentalities, you see a quite different ecosystem, a different user behavior, different everything. And you felt like, oh, I've never think about that business model. And that is always something that I find fascinating.
Will Beeson:
Linda, am I right in thinking that either currently or previously you worked with maybe an advisory capacity with the venture arm of a big Chinese tech company?
Linda Jiang:
Yeah. Yeah.
Will Beeson:
And what were you doing with them?
Linda Jiang:
I'm their advisor.
Will Beeson:
Okay.
Linda Jiang:
Baidu Ventures, which is a financial investor, VC investor, but really just focused on the AI, robotics startups, really the deep tech startups. I was helping them to actually looking for their UK, particularly UK strategy and the partnerships. So working, particularly it was a university to have some partnership because, like just you mentioned the ecosystem in here is a little bit different in China. So universities play a very, very important role in the innovation. So I was having to do, and Baidu Venture, actually they're very interesting VC, I think they are very unique from, VC perspective, they only focus on the deep tech. And then is the Chinese VC but actually have a really big team in the US, in Silicon Valley. So actually invest in both US and the Chinese deep tech startups. Yeah. So.
Will Beeson:
Okay. So you have experience in multiple capacities now in the UK startup scenes, both as an advisor to a VC effectively, and now as a co-founder of a startup, you also as we discussed before, started a company in China.
Linda Jiang:
Yeah.
Will Beeson:
Compare and contrast, what is similar and maybe more interesting, what's different about starting a company in China versus starting a company here? Maybe more in terms of just like startup culture and innovation culture. And here there's like, at least in the West there's the traditional concept of two college dropouts in t-shirts in their garage, hacking the app together or something and then, seeing what happens. Would you describe the culture as being similar or different in any interesting ways?
Linda Jiang:
I think very similar to be honest. I think very similar. It's all about, we'll have some ideas. I want to build something and early stage, we don't know which way is the right way. We'll have to explore our different directions, and hopefully eventually we'll find the right direction. I have to say it's very, very similar, but I think in China that the sense of competition probably is higher than the real competition. It's not real competition, but the feeling of the competition I think in China, probably more than in Europe, because I think China is like really about the speed. So, it's constantly someone maybe just starts something and they're doing faster than you. So that kind of a sense of the urgency, it kind of always make people a little bit more worried about things.
Will Beeson:
So don't sleep?
Linda Jiang:
Don't sleep. Yeah. Basically don't sleep. You have to move really, really fast. I think that's probably different from the culture, but in term of how startup, I think I personally find that very, very similar, very passion. Everybody passionate about what they do, and try to do something, create something, and to really benefit the society, bring the value to our customer or to our users. Yeah.
Will Beeson:
If you put on your kind of VC hat on, if you were talking to companies, your early stage companies in China that you're considering investing in or early stage companies in the UK that you're considering investing in, would you be asking the same questions? Would you be looking for the same signs of either, early traction or mindset or team composition?
Linda Jiang:
I personally do, because I've no typical VC, right. I know Baidu Venture actually have a very unique view on a lot of things, but my impression is, correct me if I'm wrong, right. So my impression is, in here probably people would need to think about their financial model in very early stage, but in China very first stage people do think, maybe mostly care about what's the problem you're trying to solve. And then-
Will Beeson:
I.e the market is big enough that-
Linda Jiang:
Yeah. Because the market is big enough. If you find the right problem, you will eventually figure out a model. But in here I guess, different challenge you need to facing. So I think this is also a good way because the early stage we really help the startup to actually think about, is there really the financial value.
Will Beeson:
You guys have also both exited startups. I think one in China, Linda, your company. And Yi yours, here in the UK recently to Greensill. So, I mean firstly, let me just stop for a minute and reflect. Linda, you sold your company to Alibaba, Yi you sold your company to Greensill. I mean, I'm in the presence of entrepreneurial royalty here. So, glad I could get that fact in. Tell me about your experiences, and would you have expected them to be different? Yi, if your experience hadn't been in the UK and Linda, if yours hadn't been in China?
Linda Jiang:
It's exciting to be an entrepreneur is, in a way probably don't really know what's going to happen or what we're going to experience. I think that kind of, out of expectation, always drives me to do something. So I think yes and no, somethings as we expected. Become a big part of a great company, Alibaba is a really, really great company, I learned a lot from Alibaba's company. And also maybe no in a way is, we have to change our mindset to think about things. Maybe have to think about something for a much bigger vision or broader view, instead of maybe just focus on what we're actually doing. Marry that focuseds view about being a startup, a startup has to be very focused to do the things the way our objective right now. So I think it's been very exciting journey to go through the whole things. And I have to say, we've been really lucky. Alibaba is a great, great company, and they're doing so many exciting stuff. Yeah.
Yi Luo:
Yeah. I think there are two ways to look at it. You can look at it through a process perspective. The acquisition didn't exactly, we didn't really expect acquisition in such an early stage. At that time the core team was developing the pilot and the product. You felt like you are on a sprint every day. And with this acquisition super exciting things come in, you're like sprint multiple five. The speed and also about, there's naturally a bit of pressure, anxiety around when the deal gets closer and closer. When it really happens it's very, very exciting, and the same time it has created a lot of sense of responsibility as well.
Yi Luo:
And the second way to look it is, around the synergy, right? I think when you come into a good M&A of execution it's always you need to look at the buyer and seller, their synergy between each other. I guess we are very, very lucky because, the way Greensill unlocked their capital for suppliers are very, very similar with the way we unlock for the employee. The mechanisms behind are very similar and we're very lucky to have Greensill to have built infrastructure, including their very strong origination team, and very strong distribution team to supercharge our business proposition. So, so far the journey has been amazing. And we have a long journey ahead, so I can't say for the future. But yeah, it's been great. A lot of work. Yeah.
Will Beeson:
We'll look, I'm absolutely fascinated by this subject. I could easily go on asking you guys questions late into the night here, but for everyone's benefit, the listeners included, I should probably wrap it up. Linda and Yi, thank you so much for joining tonight. This has been a great pleasure.
Yi Luo:
Thank you so much Will, it's been a great pleasure to be here.
Linda Jiang:
Yeah. Thank you. Thank you very much.